Priručnik o praćenju medija za izborne promatračke misije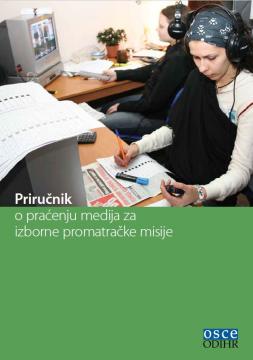 Sloboda izražavanja i sloboda medija su od ključne važnosti za svaki demokratski proces, a ocjena medijskog izvještavanja o izbornim kampanjama je temeljni dio metodologije promatranja izbora. Ova publikacija nudi sažeto obrazloženje metodologije medijskog izvještavanja koju koristi OESS-ov Ured za demokratske institucije i ljudska prava (ODIHR) u svojim aktivnostima praćenja izbora.
Ovaj priručnik uključuje skup smjernica za izvještavanje javnih i privatnih medijskih kuća, a osobito televizije i tiska, o izbornim kampanjama, ali se dotiče i interneta i drugih novih medija. Cilj nije ponuditi iscrpan katalog ovih pitanja, već rasvijetliti određena zajednička načela koja su važna međunarodnim promatračima pri ocjenjivanju izbornoga procesa s točke stajališta medija. Završni dio ove publikacije uključuje neke temeljne informacije o tehničkim aspektima praćenja medija kroz obrazloženje posebne uloge analitičara medija u promatračkim misijama na izborima (EOM). Nije joj namjera, međutim, biti tehnički priručnik koji iscrpno obrađuje svaki aspekt toga rada.
The views, opinions, conclusions and other information expressed in this document are not given nor necessarily endorsed by the Organization for Security and Co-operation in Europe (OSCE) unless the OSCE is explicitly defined as the Author of this document.