Smjernice za rješavanje prijetnji i izazova koje predstavljaju strani teroristički borci u okviru ljudskih prava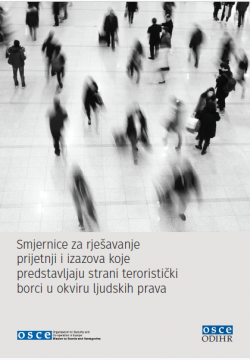 Ove smjernice je objavio ODIHR na engleskom jeziku u septembru 2018. godine pod nazivom: Guidelines for Addressing the Threats and Challenges of "Foreign Terrorist Fighters" within a Human Rights Framework. Verziju na bosanskom jeziku je pripremio i objavio ODIHR u saradnji sa Misijom OSCE-a u BiH.
Gledišta, mišljenja, zaključci i druge informacije sadržane u ovom dokumentu ne odražavaju nužno stav Organizacije za sigurnost i saradnju u Evropi (OSCE), osim ako OSCE nije izričito naveden kao autor ovog dokumenta.