Monitor mržnje, podaci za august 2017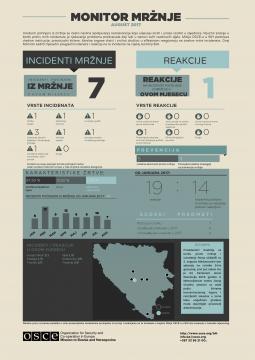 Hate-motivated incidents are often violent manifestations of intolerance which instil fear and divide communities. Tackling underlying prejudice is essential in combating the spread of these divisive actions. The OSCE Mission to Bosnia and Herzegovina supports the work of government institutions, the criminal justice system, local authorities and civil society to effectively respond to these incidents. The Hate Monitor provides a monthly update on incidents and responses throughout Bosnia and Herzegovina.
Gledišta, mišljenja, zaključci i druge informacije sadržane u ovom dokumentu ne odražavaju nužno stav Organizacije za sigurnost i saradnju u Evropi (OSCE), osim ako OSCE nije izričito naveden kao autor ovog dokumenta.