Vest i saopštenja o globalnim aktivnostima OEBS-a
Publishing date:
29 jun 2017
Prva procena novoosnovanog sistema javnog beležništva u Srbiji predstavljena je pred više od sto predstavnika državnih institucija, sudova, javnih beležnika, međunarodnih organizacija i univerzitetskih profesora 29. juna 2017. godine u Beogradu na skupu Javnobeležničke komore Srbije uz podršku Misije OEBS-a u Srbiji...
Publishing date:
16 jun 2017
Some 40 court presidents, prosecutors, judges, deputy prosecutors and representatives of the Ministry of Interior`s Service for Combating Organized Crime discussed the impact of recently introduced amendments to the Law on Seizure of the Proceeds from Crime during the joint OSCE Mission to Serbia/Prosecutor's Office for Organized Crime (POOC) roundtable discussion in Belgrade on 16 June 2017...
Publishing date:
12 jun 2017
Prvo javno-privatno partnerstvo u oblasti sajber bezbednosti u Srbiji najavljeno je na prvoj domaćoj sajber konferenciji,,Partnerstvo za bezbedni sajber prostor", koja je održana 12. juna 2017. godine u Beogradu...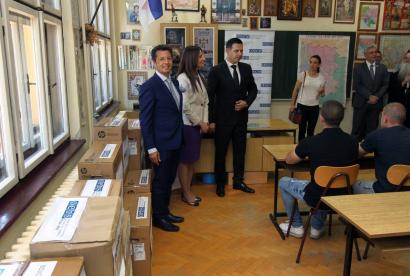 Publishing date:
12 jun 2017
Misija OEBS-a u Srbiji uručila je 9. juna 2017. godine IT opremu i školski pribor Vaspitno popravnom (VP) Domu za maloletnike u Kruševcu, povodom dana obeležavanja sedamdesete godišnjice od osnivanja ove ustanove. Takođe, IT oprema je uručena i Kazneno popravnom zavodu za žene u Požarevcu...
Publishing date:
26 maj 2017
BEOGRAD, 26. maj 2017. godine – Osnovna tema trećeg Globalnog foruma međunarodnih udruženja tužilaca koji je otvoren danas u Beogradu je pitanje načina na koji udruženja tužilaca mogu da doprinesu povećanju profesionalne odgovornosti i unapređenju etičkih standarda u radu tužilaca...
Publishing date:
23 maj 2017
BEOGRAD, 23. maj 2017. Godine-- Misija OEBS-a u Srbiji, u partnerstvu sa Školom nacionalne odbrane Vojne akademije, započela je danas u Beogradu kurs iz oblasti odbrane i bezbednosti, koji će pohađati dvadesetak predstavnika Narodne skupštine Republike Srbije...
Publishing date:
15 maj 2017
Content type:
Saopštenja za javnost