Vest i saopštenja o globalnim aktivnostima OEBS-a
Publishing date:
21 septembar 2017
Međunarodna konferencija kojoj je prisustvovalo oko 40 predstavnika pravosuđa iz deset evropskih zemalja, na temu prednosti i nedostataka postojećih sistema upravnog pravosuđa u njihovim zemljama, održana je 21. i 22. septembra 2017. godine u Beogradu.
Publishing date:
15 septembar 2017
Content type:
Saopštenja za javnost
BEOGRAD, 15. septembar 2017. godine – Misija OEBS-a u Srbiji, u partnerstvu sa organizacijom civilnog društva Centar za istraživanje, transparentnost i odgovornost (CRTA) i Narodnom skupštinom Republike Srbije, danas je u Skupštini Srbije organizovala forum na temu demokratije i učešća građana u procesu donošenja odluka, obeležavajući time desetogodišnjicu Međunarodnog dana demokratije...
Publishing date:
7 jul 2017
Međunarodna konferencija koja je okupila oko 60 predstavnika pravosuđa, kako bi se razmenila iskustva profesionalnih udruženja sudija na domaćem i međunarodnom nivou u vezi sa promovisanjem i zaštitom nezavisnosti pravosuđa, organizovana je 7. jula u Beogradu...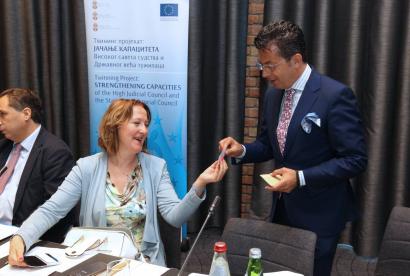 Publishing date:
5 jul 2017
Zajedno sa projektom Evropske Unije,,Jačanje kapaciteta Visokog saveta sudstva i Državnog veća tužilaca", Misija OEBS-a je organizovala konferenciju na temu odnosa između pravosuđa i ostalih grana vlasti u Srbiji, 5. Jula 2017. godine, u Beogradu...
Publishing date:
29 jun 2017
Prva od pet radionica o Partnerstvu za otvorenu upravu (POU) je održana 29. juna u Vranju, za predstavnike lokalnih samouprava iz Pčinjskog i Jablaničkog okruga...
Publishing date:
29 jun 2017
Prva procena novoosnovanog sistema javnog beležništva u Srbiji predstavljena je pred više od sto predstavnika državnih institucija, sudova, javnih beležnika, međunarodnih organizacija i univerzitetskih profesora 29. juna 2017. godine u Beogradu na skupu Javnobeležničke komore Srbije uz podršku Misije OEBS-a u Srbiji...
Publishing date:
16 jun 2017
Some 40 court presidents, prosecutors, judges, deputy prosecutors and representatives of the Ministry of Interior`s Service for Combating Organized Crime discussed the impact of recently introduced amendments to the Law on Seizure of the Proceeds from Crime during the joint OSCE Mission to Serbia/Prosecutor's Office for Organized Crime (POOC) roundtable discussion in Belgrade on 16 June 2017...