Vest i saopštenja o globalnim aktivnostima OEBS-a
Publishing date:
8 februar 2010
Content type:
Saopštenja za javnost
BELGRADE, 8 February 2010- The Head of the OSCE Mission to Serbia, Ambassador Dimitrios Kypreos, today urged Serbia's national minority communities to register for and vote in elections to National Minority Councils to help ensure broad representation...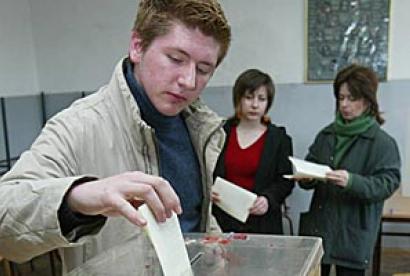 Publishing date:
22 januar 2007
Content type:
Saopštenja za javnost
Beograd, 22. januar 2007 – Parlamentarni izbori u Srbiji održani 21. januara pružili su građanima Srbije istinsku mogućnost da biraju iz čitavog spektra političkih platformi i sprovedeni su u skladu sa zahtevima OEBS-a i standardima Saveta Evrope koji se odnose na demokratske izbore. Ipak, ostaju pojedine odredbe izbornog zakonodavstva koje je potrebno razmotriti. To su zaključci Međunarodne izborne posmatračke misije (IEOM), objavljeni danas u Beogradu...