News and press releases from the OSCE's global activities.
Publishing date:
28 March 2019
SKOPJE, 28 March 2019 – Some 60 judges from North Macedonia, Croatia, Montenegro, Poland, Serbia and Slovenia, gathered in Skopje today to discuss preconditions and challenges the Western Balkan countries face on the path towards the application of European judicial standards in their countries...
Publishing date:
27 March 2019
Content type:
Press release
MINSK, 27 March 2019 – The Special Representative of the OSCE Chairperson-in-Office in Ukraine and in the Trilateral Contact Group (TCG), Ambassador Martin Sajdik, made the following statement to the press after the meeting of the TCG and its Working Groups in Minsk on 27 March 2019...
Publishing date:
27 March 2019
Content type:
Daily report
Compared with the previous reporting period, the SMM recorded more ceasefire violations in both Donetsk and Luhansk regions. The SMM saw fresh craters in Sentianivka and damage to a house in Marinka. The Mission recorded ceasefire violations, including explosions, inside the Zolote disengagement area. Inside the same area, it also observed military presence and hardware, as well as anti-tank mines across road T-1316. It observed weapons in violation of the withdrawal lines on both sides of the contact line. The SMM facilitated and monitored adherence to the ceasefire to enable repairs to essential civilian infrastructure. Restrictions of the SMM's access continued in all three disengagement areas. In addition, it was restricted at a checkpoint near Verkhnoshyrokivske, in a non-government-controlled area of southern Donetsk region...
Publishing date:
27 March 2019
The importance of gender–sensitive legislation was the topic of a meeting with Belarusian women parliamentarians organized by the OSCE Office for Democratic Institutions and Human Rights (ODIHR), in collaboration with the House of Representatives of the National Assembly of Belarus, on 27 March 2019 in Minsk.
Publishing date:
26 March 2019
Content type:
Press release
VIENNA, 26 March 2019 – Economic connectivity in the OSCE region, trade facilitation, co-operation between state bodies and the private sector were the focus of a workshop hosted by the Office of the Co ordinator of OSCE Economic and Environmental Activities (OCEEA) today in Vienna...
Publishing date:
26 March 2019
Content type:
Press release
LUXEMBOURG CITY, 26 March 2019 – OSCE PA President George Tsereteli (MP, Georgia) and Secretary General Roberto Montella are visiting the Grand Duchy of Luxembourg to finalize with the Chamber of Deputies the agreement to hold the Parliamentary Assembly's 28th Annual Session in Luxembourg City.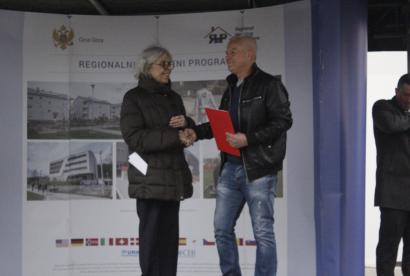 Publishing date:
26 March 2019
The OSCE Mission to Montenegro participated in a ceremony to hand over keys of 94 newly built housing units to families in the Municipality of Berane on 26 March 2019. The construction, worth 3.9 million euro, is part of the Regional Housing Programme (RHP).