News and press releases from the OSCE's global activities.
Publishing date:
3 April 2019
Content type:
Press release
VIENNA, 3 April 2019 – The OSCE Representative on Freedom of the Media, Harlem Désir, today expressed his disappointment over the court verdicts handed down today to a number of journalists and writers in the Özgür Gündem trial in Turkey...
Publishing date:
3 April 2019
Content type:
Press release
BRUSSELS, 3 April 2019 – The Return Policy of European Union Member States and Belgium's practices in this area were the focus of a visit by members of the OSCE Parliamentary Assembly's Ad Hoc Committee on Migration to Brussels on Tuesday, led by Chair Nahima Lanjri (Belgium)...
Publishing date:
3 April 2019
The OSCE Presence in Albania and the Albanian Extractive Industries Transparency Initiative signed on 2 April 2019 a co-operation agreement on joint activities to raise local capacities, promote transparency and strengthen anti-corruption efforts at local level.
Publishing date:
2 April 2019
Content type:
Daily report
Compared with the previous 24 hours, the SMM recorded more ceasefire violations in Donetsk region and fewer in Luhansk region. The Mission followed up on reports of a man killed in Sakhanka due to shrapnel injuries, as well as a man and a woman injured in Pikuzy due to shelling, all in March. The SMM saw fresh damage to residential buildings and a school in Zolote-2/Karbonit and Zolote-5/Mykhailivka. It also observed fresh craters near Kalynove-Borshchuvate and Novotroitske. The Mission recorded ceasefire violations inside the Zolote disengagement area and near the Stanytsia Luhanska disengagement area. The SMM saw for the first time a piece of unexploded ordnance near Novobakhmutivka, unexploded ordnance and anti-tank mines near Marinka, an improvised explosive device near Olenivka and mine hazard signs near Kreminets and Verkhnotoretske. The SMM facilitated and monitored adherence to the ceasefire to enable repairs to essential civilian infrastructure. Restrictions of the SMM's access continued in all three disengagement areas. In addition, it was restricted at checkpoints near Zaichenko, Verkhnoshyrokivske and Tavrycheske, as well as at a border crossing point and railway station near Voznesenivka, close to the border with the Russian Federation.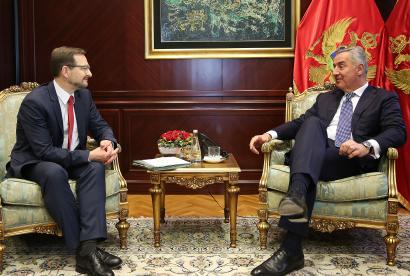 Publishing date:
2 April 2019
Content type:
Press release
PODGORICA, 2 April 2019- OSCE Secretary General Thomas Greminger concluded today a two-day visit to Podgorica, during which he met with Montenegro's highest officials and highlighted the significant progress achieved in fulfilling strategic reforms in the country...
Publishing date:
2 April 2019
Content type:
Weekly report
KAMENSK-SHAKHTINSKIY, Russian Federation. The Observer Mission (OM) continues to operate 24/7 at both Border Crossing Points (BCPs). The overall number of border crossings by persons increased at both BCPs compared to the previous week...
Publishing date:
2 April 2019
A four-day training programme on the Prevention of Illicit Trafficking of Cultural Heritage (PITCH), organized by the World Customs Organization (WCO) and the Organization for Security and Co-operation in Europe (OSCE) with the support of the Border Management Unit of the OSCE Project Office in Dushanbe, Tajikistan, drew to a close on 29 March 2019.