News and press releases from the OSCE's global activities.
Publishing date:
2 February 2018
Some 75 city administration officials including city council members, public enterprise officials and providers of citizen services from Novi Pazar have successfully completed an OSCE-supported public relations and customer service training course held over a period of three months from November 2017 to January 2018. The final course in a series of three will take place in Kopaonik from 2 to 4 February.
Publishing date:
1 February 2018
More than 30 prosecutors and judges from across Bosnia and Herzegovina (BiH) attended a training course on trafficking in human beings (THB), which concluded on 1 February 2018 in Sarajevo. The course was organized by the OSCE Mission to BiH, in co-operation with the Judicial and Prosecutorial Training Center of the Federation of BiH.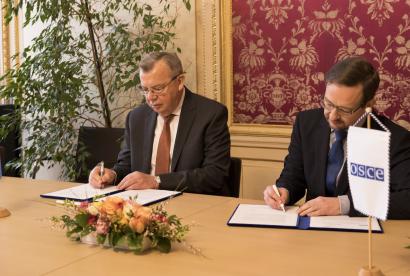 Publishing date:
31 January 2018
Content type:
Press release
VIENNA, 31 January 2018 – A plan for joint action by the OSCE and the United Nations Office on Drugs and Crime (UNODC) for the period 2018-2019 was signed by OSCE Secretary General Thomas Greminger and UNODC Executive Director Yury Fedotov today at the OSCE Secretariat in Vienna.
Publishing date:
11 January 2018
Content type:
Press release
VIENNA, 11 January 2018 – Addressing the crisis in and around Ukraine, the protracted conflicts, the security of the Mediterranean region, and the challenges of migration, including by combating human trafficking and all forms of xenophobia and discrimination, are among Italy's OSCE Chairmanship priorities, OSCE Chairperson-in-Office and Italy's Foreign Minister Angelino Alfano told the Permanent Council in Vienna today...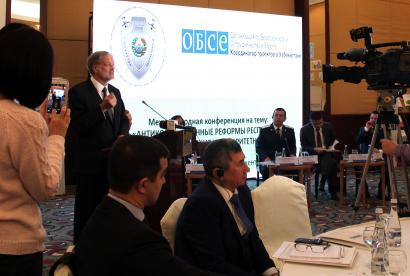 Publishing date:
19 December 2017
Some 150 high-level officials from the General Prosecutor's Office of Uzbekistan, the Senate of the country's parliament (the Oliy Majlis) and government agencies along with civil society and media representatives gathered for an open doors event on the premises of the General Prosecutor's Office in Tashkent on 18 December 2017 to mark International Anti-Corruption Day...
Publishing date:
19 December 2017
The results of the OSCE Programme Office in Bishkek's four-month research into the effectiveness of the so-called "single window model" used by Kyrgyzstan's ministries and agencies to streamline the delivery of public services to the residents of the capital city were presented on 6 December 2017. The research was conducted at the request of the Prime Minister's Office as part of efforts to improve the delivery of public and municipal services in the country...
Publishing date:
15 December 2017
International standards and best practices on the independence of the judiciary in the context of criminal justice are the focus of an OSCE-supported series of three two-day seminars that started in Dashoguz on 15 December 2017 and will be continued in Mary until 18 December. The concluding seminar will be held in January 2018 in Ashgabat.