News and press releases from the OSCE's global activities.
Publishing date:
17 May 2019
A three-day training course aimed at further strengthening the capacity of Albania to counter terrorist financing was organized from 15 to 17 May 2019, in Tirana. Twenty-two participants (including five females) from the General Directorate for the Prevention of Money Laundering (GDPML) (Albanian Financial Intelligence Unit), the State Intelligence Service (SHISH), the Albanian State Police, the Ministry of Justice and the Prosecution Office for Serious Crimes completed the course.
Publishing date:
13 May 2019
Content type:
Press statement
Bratislava/Copenhagen/Vienna, 13 May 2019 – OSCE Chairperson-in-Office and Slovakia's Foreign and European Affairs Minister Miroslav Lajčák, OSCE Secretary General Thomas Greminger, President of the OSCE Parliamentary Assembly (OSCE PA) George Tsereteli and OSCE PA Secretary General Roberto Montella today strongly condemned the use of violence by this weekend's protesters in Albania's capital Tirana, as well as the threats and attempted intimidation directed at the Head of the OSCE's Presence in Albania and at the Organization in general. They also called on law enforcement officials to show restraint.
Publishing date:
3 April 2019
The OSCE Presence in Albania and the Albanian Extractive Industries Transparency Initiative signed on 2 April 2019 a co-operation agreement on joint activities to raise local capacities, promote transparency and strengthen anti-corruption efforts at local level.
Publishing date:
29 March 2019
A technical workshop on corruption prevention tools and integrity planning for public officials of central level institutions was held on 28 and 29 March 2019 in Tirana...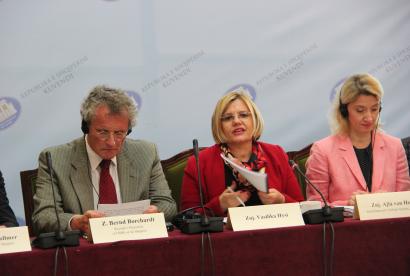 Publishing date:
20 March 2019
Promoting gender-sensitive legislation in Albania was the focus of discussion at a workshop in Tirana on 20 March 2019. The event was organized by the OSCE Office for Democratic Institutions and Human Rights (ODIHR), in co-operation with the OSCE Presence in Albania and the parliament of Albania.
Publishing date:
1 March 2019
A three-day train-the-trainer course for Albanian participants on countering terrorist financing was organized in Vienna from 27 February to 1 March 2019 by the OSCE's Transnational Threats Department, in co-operation with the OSCE Presence in Albania, and the UN Office on Drugs and Crime's Global Programme against Money Laundering (UNODC/GPML)...
Publishing date:
31 January 2019