News and press releases from the OSCE's global activities.
Publishing date:
16 February 2018
The Rector of the Kyrgyz Presidential Academy of Public Administration, Almaz Nasyrov, participated in the joint session of the OSCE Forum for Security Co-operation and the OSCE Permanent Council on Security Sector Governance and Reform (SSG/R) on 14 February 2018 in Vienna, Austria.
Publishing date:
12 February 2018
The OSCE Mission to Serbia, in partnership with the Ministry of Interior and the Ministry of Education, launched the Basics of Child Safety handbook, a vital guideline for schoolchildren, teachers and parents, on 12 February 2018 in Belgrade.
Publishing date:
8 February 2018
The OSCE High Commissioner on National Minorities Lamberto Zannier visited Ukraine's Zakarpattia region from 5 to 7 February 2018 to assess inter-ethnic relations in the region. His visit to this western region of Ukraine was a follow-up to his trip to Kyiv in December 2017...
Publishing date:
19 December 2017
A two-day training course on media literacy for over 20 students from the Faculties of Philosophy and Political Sciences of the University of Sarajevo, organized by the OSCE Mission to Bosnia and Herzegovina (BiH), was held on 16 and 17 December 2017 in Sarajevo...
Publishing date:
18 December 2017
An OSCE-supported feasibility study for academic police studies according to the Bologna Standards of Academic Education, which evaluates the potential for the success and sustainability of the current Montenegrin police education system, was presented at a workshop hosted by the OSCE Mission and the Police Academy of Montenegro on 14 December 2017 in Podgorica.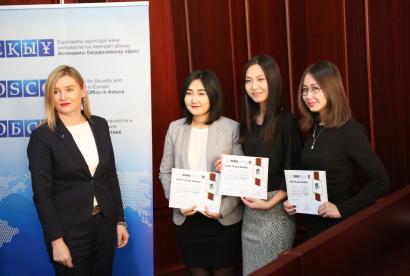 Publishing date:
14 December 2017
The annual OSCE-supported International Youth Legal Forum, which is held in recognition of the Human Rights Day and was dedicated to mechanisms of human rights protection this year, concluded on 14 December 2017 in Astana, Kazakhstan.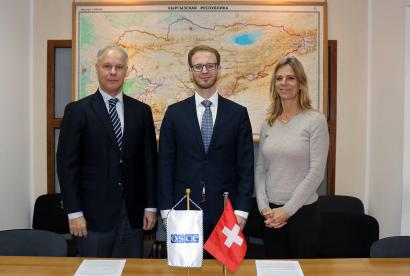 Publishing date:
14 December 2017
Content type:
Press release
BISHKEK, 14 December 2017- An agreement in which Switzerland commits to allocate CHF 430,000 (approximately EUR 370,000) in support of the OSCE Academy in Bishkek over the next three years was signed by the Swiss Ambassador to Kyrgyzstan, Véronique Hulmann and the Head of the OSCE Programme Office in Bishkek, Pierre von Arx on 14 December 2017 in Bishkek. The grant will be used to strengthen the Academy's research capacities.