News and press releases from the OSCE's global activities.
Publishing date:
9 October 2018
Content type:
Press release
MINSK, 9 October 2018 – While the widespread exploitation of the Internet and social media platforms by terrorists poses serious challenges to security, the Internet as a communication channel also plays an important role in preventing and countering terrorism, underlined participants today at the start of a two-day high-level international conference in Minsk...
Publishing date:
28 September 2018
Enhancing the capacities of law enforcement officers to counter religiously motivated terrorist organizations in line with international best practices was the aim of a five-day training course for some 20 counter-terrorism officers from the Interior Ministry, which concluded on 28 September 2018. The course was organized by the OSCE Mission to Skopje, in co-operation with the Turkish National Police...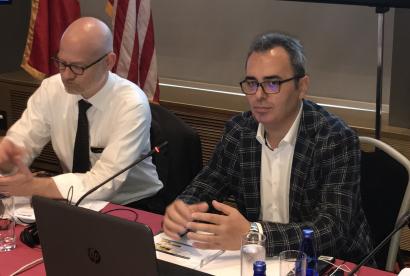 Publishing date:
19 September 2018
Strengthening rule of law-compliant criminal justice responses to terrorism was the aim of a two-day seminar for over 30 Montenegrin practitioners from relevant government agencies, which concluded on 19 September 2018 in Budva...
Publishing date:
18 September 2018
Representatives from Kazakhstan, Kyrgyzstan, Turkmenistan and Uzbekistan participated in an OSCE-supported two-day regional seminar "Combatting financing of terrorism: best practices within the OSCE region". The event concluded in Ashgabat on 18 September 2018.
Publishing date:
18 September 2018
An OSCE-supported two-day training seminar on applying a risk-based approach to counter money laundering and the financing of terrorism for some 80 representatives from the National Bank of Kazakhstan, the Financial Monitoring Committee and the second-tier banks concluded on 18 September 2018 in Almaty, Kazakhstan...
Publishing date:
17 September 2018
A two-day train-the-trainer course for Kazakh government officials on countering terrorist financing was organized by the OSCE's Transnational Threats Department, in partnership with the OSCE Programme Office in Astana, the UN Office on Drugs and Crime's Global Programme against Money Laundering (UNODC/GPML) and the Eurasian Group on Combating Money Laundering and the Financing of Terrorism (EAG), from 14 to 15 September 2018, at the OSCE Secretariat in Vienna...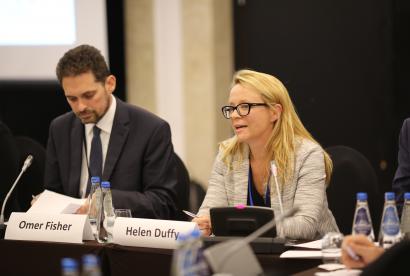 Publishing date:
12 September 2018
Human rights-compliant approaches to addressing threats and challenges posed by "foreign terrorist fighters" are the focus of a new publication presented by the OSCE Office for Democratic Institutions and Human Rights (ODIHR) at an event on 12 September 2018, during the annual Human Dimension