News and press releases from the OSCE's global activities.
Publishing date:
23 October 2017
Legal experts from across the country joined an OSCE-supported public debate in Skopje on 20 October 2017 to comment on the draft amendments to the law on anti-discrimination.
Publishing date:
6 October 2017
Education needs to be a tool to overcome, not to cement, divisions, said the OSCE High Commissioner on National Minorities (HCNM) Lamberto Zannier in meetings with his interlocutors during a visit to Skopje and Tetovo between 2 and 5 October 2017...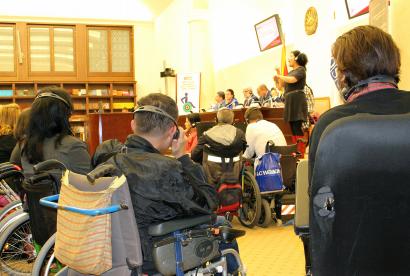 Publishing date:
29 September 2017
Promoting the participation of persons with disabilities in political and public life was the focus of an OSCE Mission to Skopje-organized workshop that took place on 28 September 2017 in Skopje.
Publishing date:
7 September 2017
The OSCE Guidebook on Intelligence-Led Policing (ILP) was promoted on 6 September 2017 in Skopje, during a regional event which brought together some 50 representatives of the public security sector from South-Eastern European countries...
Publishing date:
22 August 2017
Increasing operational awareness to detect forged documents and imposters is the aim of a three-day advanced training course for border police officers organized by the OSCE Secretariat's Transnational Threats Department with support from the OSCE Mission to Skopje, which started at the Police Training Centre in Idrizovo on 22 August 2017...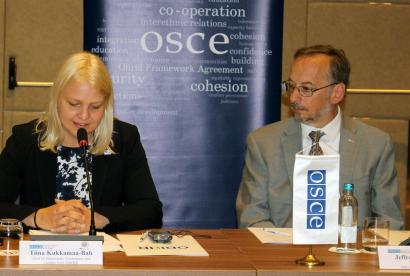 Publishing date:
22 June 2017
The stronger political engagement of people with disabilities at the national level and increased co-operation with organizations representing them were discussed during two events organized in Skopje this week by the OSCE Office for Democratic Institutions and Human Rights (ODIHR) in co-operation with the OSCE Mission to Skopje...
Publishing date:
9 June 2017
Content type:
Press release
SKOPJE, 9 June 2017 – The Head of the OSCE Mission to Skopje Nina Suomalainen met today in Skopje with the newly elected Prime Minister Zoran Zaev and congratulated on his election as the Prime Minister...