News and press releases from the OSCE's global activities.
Publishing date:
5 July 2019
Content type:
Press release
Vienna, 5 July 2019 – Including women at all stages of the planning and decision-making processes in environmental security enables more effective and sustainable responses to the challenges we face, stressed participants at today's High-Level Discussion on Promoting the Role of Women in Addressing Environment and Security Challenges.
Publishing date:
5 July 2019
Content type:
Daily report
Compared with the previous reporting period, the SMM recorded more ceasefire violations in both Donetsk and Luhansk regions. Gunfire occurred in close vicinity of SMM patrol members at the Zolote disengagement area. The SMM saw fresh damage due to shelling in Patriotychne, Azov, Marinka and craters in Pikuzy. It also observed fresh craters near Sakhanka and in Novoluhanske, as well as damaged and destroyed buildings and ongoing fires in and near Pikuzy and Vodiane. Inside the Stanytsia Luhanska disengagement area, the SMM saw that concrete blocks near the former forward position of the Ukrainian Armed Forces were no longer present; it also observed workers cutting trees and grass along the road north of the bridge. The Mission recorded ceasefire violations inside the disengagement area near Zolote. The Mission facilitated and monitored adherence to the ceasefire to facilitate repairs and the operations of critical civilian infrastructure. Restrictions of the SMM's access continued, including in non-government-controlled Hryhorivka and Horlivka...
Publishing date:
5 July 2019
A two-week youth camp on restoration and documentation of cultural heritage in the village of Letnicë/Letnica, Viti/Vitina municipality, concluded on 5 July 2019...
Publishing date:
5 July 2019
Representatives of the Montenegrin State Election Commission (SEC) visited their Slovenian counterparts in Ljubljana from 3 to 5 July 2019 to hear about the country's experiences of administering local and parliamentary elections...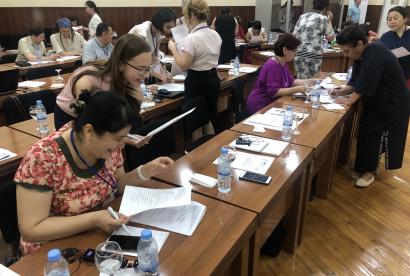 Publishing date:
5 July 2019
An OSCE Project Co-ordinator in Uzbekistan-supported Gender Economics International Summer School was conducted from 2 to 6 July 2019 in Tashkent for some 35 young employees of the public sector and non-governmental organizations from Uzbekistan, Kazakhstan, Kyrgyzstan and Tajikistan working on issues of women's empowerment and gender equality...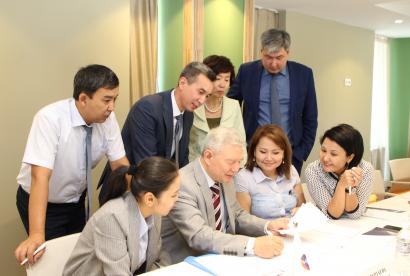 Publishing date:
5 July 2019
Two OSCE-supported training seminars on enhancing dialogue and co-operation between the courts and media concluded on 5 July 2019 in Almaty, Kazakhstan...
Publishing date:
4 July 2019
Content type:
Spot report
On 4 July, an SMM patrol consisting of four members and two armoured vehicles was positioned at the checkpoint of the armed formations on the southern edge of the Zolote disengagement area (60km west of Luhansk) preparing to conduct a mini-unmanned aerial vehicle flight. At 11:55, the SMM patrol members, two of whom were outside and two inside the vehicles, with doors open, heard 30-40 bursts of heavy-machine gun and 20-30 shots of small-arms fire, all assessed as originating 1-2km north-north-west of their position. The SMM members heard bullets flying 10-15m above their heads and also heard and saw bullets impacting electricity poles 10-15m south-west of their position...