News and press releases from the OSCE's global activities.
Publishing date:
2 June 2020
On 28 and 29 May 2020 in Tirana, the OSCE Presence in Albania, in co-operation with the Law Faculty at the University of Tirana, organized a workshop with the academic staff of the new Master Programme in Criminology, aimed to improve capacities of professionals, academics and policy-makers to identify root causes of crime...
Publishing date:
20 May 2020
SKOPJE, 20 May 2020 – Today, the OSCE Mission to Skopje published its third and final report on the activities and cases under the former Special Prosecutor's Office (SPO). The publication includes recommendations to judicial actors, the legislative and the executive branches, with the aim to tackle the issues identified in the report in order to improve the efficiency and fairness of judicial proceedings...
Publishing date:
6 May 2020
Environmental crime in Albania increased in the first four months of 2020 compared to the same period last year, according to police reports...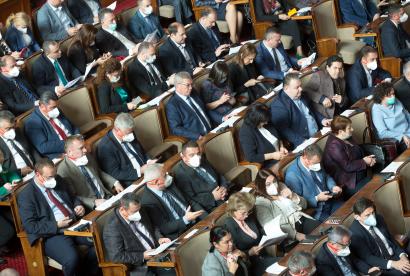 Publishing date:
21 April 2020
Content type:
Press release
Warsaw/Copenhagen, 21 April 2020 – A strong role for parliaments is crucial to the transparency and accountability of government measures as the COVID-19 pandemic puts our democracies to the test, the OSCE Office for Democratic Institutions and Human Rights (ODIHR) and the OSCE Parliamentary Assembly (OSCE PA) said in a statement today...
Publishing date:
7 April 2020
Content type:
Press release
The OSCE Mission to Bosnia and Herzegovina, the Office of the High Representative, the U.S. Embassy in BiH, British Embassy in Sarajevo, the Delegation of the European Union to Bosnia and Herzegovina and EU Special Representative note the introduction of a number of measures by the institutions in Bosnia and Herzegovina (BiH) aimed at combating and preventing the spread of COVID-19, and also alleviating its negative socio-economic impacts....
Publishing date:
6 April 2020
Content type:
Press release
SKOPJE, 6 April 2020- The OSCE Mission to Skopje, the Ministry of Labour and Social Policy of North Macedonia and the National Network to End Violence against Women and Domestic Violence call upon the relevant actors to make additional efforts to prevent domestic violence during the COVID-19 crisis and to put in place effective victim protection mechanisms...
Publishing date:
1 April 2020
Content type:
Press release
COPENHAGEN, 1 April 2020 – The granting of emergency powers in Hungary that enable the government to rule by decree without a foreseen termination date is a dangerous step that undermines democracy in the country, said OSCE PA human rights leaders today.