News and press releases from the OSCE's global activities.
Publishing date:
2 November 2018
A second meeting of the Regional Youth Co-operation Office (RYCO) Advisory Board, supported by the OSCE Mission to Montenegro in an effort to strengthen the Board's role and visibility, was held on 31 October 2018 in Podgorica...
Publishing date:
23 October 2018
The OSCE-supported Women's Resource Centres (WRCs) in Tajikistan together with local authorities celebrated the International Day of the Girl under the theme "Empowering Girls" in rural regions of Tajikistan on 11 October 2018. The campaign was organized around various thematic activities, which included painting contests, fashion design competitions, conferences and sessions bringing together different rural communities. It aimed at raising awareness of girls' and boys' equal rights to opportunities in society.
Publishing date:
22 October 2018
Life values, growth opportunities and essential needs of young people in the modern society were the focus of the annual three-day Zhas (Youth) Camp that concluded on 21 October 2018 in Almaty, Kazakhstan.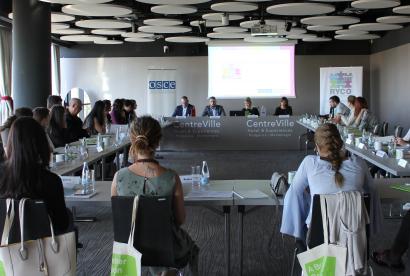 Publishing date:
28 September 2018
Considering the Regional Youth Co-operation Office (RYCO) as a key partner for promoting the spirit of reconciliation among the region's youth, the OSCE Mission to Montenegro, with the RYCO Local Branch Office, organized a three-day capacity-building training for 23 potential RYCO applicants between 25 and 28 September 2018.
Publishing date:
14 September 2018
Content type:
Press release
WARSAW, 13 September 2018 – More must be done to promote the participation of under-represented groups in political decision making if we are to ensure effective, truly democratic governance and societies, Ingibjörg Sólrún Gísladóttir, Director of the OSCE Office for Democratic Institutions and Human Rights (ODIHR), said today, ahead of tomorrow's International Day of Democracy.
Publishing date:
5 September 2018
Five alumni of the Central Asian Youth Network (CAYN) met with OSCE Secretary General Thomas Greminger in Vienna on 5 September 2018. They discussed security issues in Central Asia, the OSCE's work and its comprehensive and co-operative approach to security...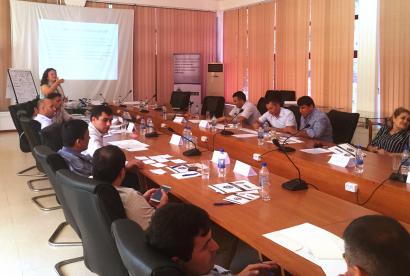 Publishing date:
4 September 2018
A three-day training course on juvenile justice aimed at raising awareness about the rights of children in contact with the criminal justice system concluded on 31 August 2018 in Romit, Tajikistan (40 km north-east of Dushanbe). The course was organized by the OSCE Programme Office in Dushanbe...