News and press releases from the OSCE's global activities.
Publishing date:
18 September 2017
Strengthening the capacity of government officials from Kyrgyzstan to counter terrorist financing was the aim of a three-day train-the-trainers course organized by the OSCE's Transnational Threats Department and the UN Office on Drugs and Crime's Global Programme against Money Laundering. The event took place from 16 to 18 September 2017 in Vienna. It follows similar courses organized for Kyrgyz officials in June and July 2017...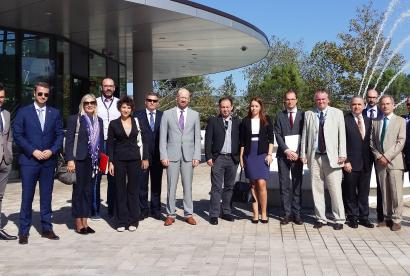 Publishing date:
14 September 2017
A new OSCE capacity-building project aimed at developing and enhancing the responsiveness, professional knowledge and skills of criminal justice institutions in South-Eastern Europe was launched on 14 September 2017 in Podgorica, Montenegro. The project was developed to address common and new challenges in fighting cybercrime and cyber-enabled crime...
Publishing date:
13 September 2017
A national table top exercise focusing on preparedness and protection of non-nuclear critical energy infrastructure against IT-based terrorist attacks concluded on 13 September 2017 in Bratislava...
Publishing date:
30 August 2017
The OSCE Programme Office in Bishkek and the Action against Terrorism Unit of the OSCE's Transnational Threats Department held a two-day expert meeting on establishing an Advance Passenger Information (API) system in the country, which took place in Bulan-Sogottu, Kyrgyzstan on 23 August and 24 August 2017. The expert meeting brought together more than 40 decision-makers involved in passenger information processing in the country, including border control and airport authorities, airlines, customs officers, and national security officers. It provided participants with a comprehensive understanding of the functions and benefits of API in combating terrorism and transnational crime...
Publishing date:
22 August 2017
Increasing operational awareness to detect forged documents and imposters is the aim of a three-day advanced training course for border police officers organized by the OSCE Secretariat's Transnational Threats Department with support from the OSCE Mission to Skopje, which started at the Police Training Centre in Idrizovo on 22 August 2017...
Publishing date:
17 August 2017
Content type:
Press release
COPENHAGEN, 17 August 2017 – OSCE Parliamentary President Christine Muttonen (Austria), Ad Hoc Committee on Countering Terrorism Chair Makis Voridis (Greece) and human rights committee Chair Nacho Sanchez Amor (Spain) condemned today the attack in Barcelona, Spain, which is being treated by the authorities as terrorism. At least 13 people were killed and 50 seriously injured when a van plowed into pedestrians in the city's historic Las Ramblas district.
Publishing date:
17 August 2017
Content type:
Press release
VIENNA, 17 August 2017 – OSCE Chairperson-in-Office and Austria's Foreign Minister Sebastian Kurz and OSCE Secretary General Thomas Greminger expressed outrage at the terrorist attack in Barcelona, in which numerous persons died or were injured. They offered their condolences to the families of the slain victims and wished a quick recovery to the injured.