News and press releases from the OSCE's global activities.
Publishing date:
15 November 2017
A workshop for canine officers and veterinarians on using service dogs to ensure border security in Turkmenistan, organized by the OSCE Centre in Ashgabat, concluded on 13 November 2017 near Ashgabat.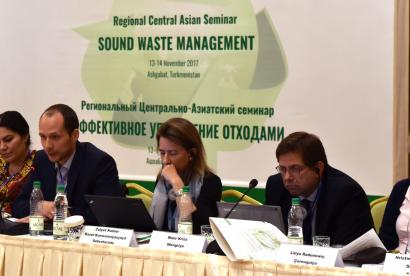 Publishing date:
14 November 2017
Content type:
Press release
ASHGABAT, 14 November 2017- International standards and best practices in the field of waste management were the focus of an OSCE-supported regional seminar that concluded in Ashgabat today. The seminar was attended by international experts and representatives of relevant governmental authorities in Central Asia, academia, NGOs and the business sector.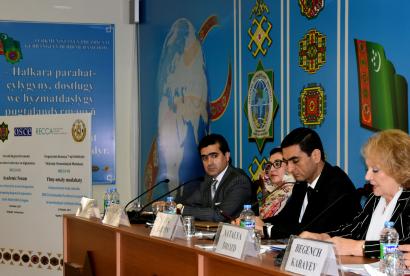 Publishing date:
13 October 2017
Content type:
Press release
ASHGABAT, 13 October 2017- Policymakers, diplomats and experts from the research institutes and economic sectors representing the countries of Central, South and Southwest Asia today participated in an OSCE-supported academic forum held as part of the Seventh Regional Economic Co-operation Conference on Afghanistan (RECCA VII)...
Publishing date:
13 October 2017
Best practices in countering money laundering through offshore zones were shared at an OSCE-supported seminar for representatives from Turkmenistan's Ministry of Finance, its law enforcement and supervisory bodies, several commercial banks and other relevant agencies, which took place in Ashgabat from 11 to13 October 2017.
Publishing date:
11 October 2017
Representatives of ministries dealing with transport logistics, finance institutions, the State Customs and State Border Services, the Union of Entrepreneurs and Industrialists, and other state bodies participated in an OSCE-organized seminar on facilitating the development of secure national transport and trade infrastructures that took place in Ashgabat on 10 and 11 October 2017...
Publishing date:
28 July 2017
An OSCE-organized five-day training course on the detection of forged documents and imposters took place in Ashgabat from 24 to 28 July 2017. The course brought together representatives from Turkmenistan's Interior and National Security Ministries, the State Border Service, and the State Migration Service...
Publishing date:
20 July 2017