News and press releases from the OSCE's global activities.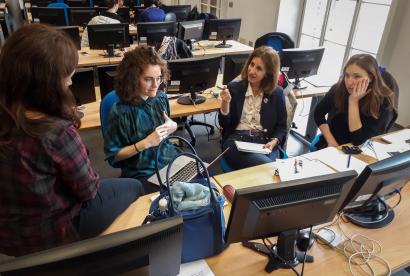 Publishing date:
12 April 2018
Strategies to effectively address hate crimes were the focus of a training course for civil society representatives and legal professionals working with hate crime victims, organized by the OSCE Office for Democratic Institutions and Human Rights (ODIHR) in co-operation with Italy's Catholic
Publishing date:
21 March 2018
Content type:
Press release
STRASBOURG / WARSAW / VIENNA, 21 March 2018. Promoting equality and combating racism are essential to fortify social cohesion and democratic security, the heads of three European human rights institutions said in a joint statement on today's International Day for the Elimination of Racial Discrimination...
Publishing date:
2 March 2018
Strengthening the ability of civil society to identify and report hate crimes, and to better support the victims of these crimes, was at the centre of two training workshops organized by the OSCE Office for Democratic Institutions and Human Rights (ODIHR) this week in Bishkek and Almaty. The
Publishing date:
28 February 2018
The final event of a training programme designed by the OSCE Office for Democratic Institutions and Human Rights (ODIHR) to improve co-operation between police officers and prosecutors in addressing hate crimes in Bulgaria was held on 27 and 28 February 2018 in Plovdiv. The training course,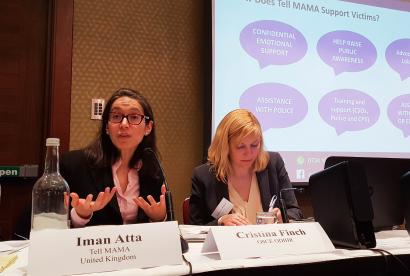 Publishing date:
28 February 2018
Hate crime against migrants was the focus of an expert roundtable meeting organized by the OSCE Office for Democratic Institutions and Human Rights (ODIHR) on 27 and 28 February 2018 in London. Forty-seven participants, 26 women and 21 men, from 14 OSCE participating States included representatives
Publishing date:
14 February 2018
A training course designed to improve co-operation between police officers and prosecutors in addressing hate crimes in Bulgaria was organized by the OSCE Office for Democratic Institutions and Human Rights (ODIHR) in the city of Veliko Tarnovo on 13 and 14 February 2018. Twenty-five police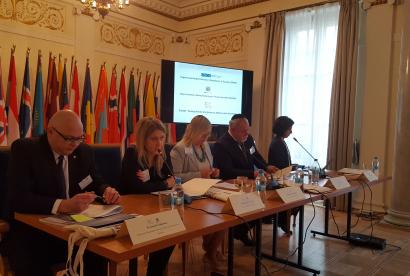 Publishing date:
12 February 2018
Addressing the needs of Jewish communities in Poland was the focus of a meeting organized by the OSCE Office for Democratic Institutions and Human Rights (ODIHR) on 13 February 2018 in Warsaw. The meeting was held in co-operation with the Polish Interior Ministry, the General Police Headquarters of