News and press releases from the OSCE's global activities.
Publishing date:
4 June 2021
The OSCE organized an online workshop on the social re-use of confiscated criminal assets in Montenegro on 3 June 2021. The workshop brought together representatives from civil society organizations, law enforcement and the Cadastre and State Property Administration of Montenegro.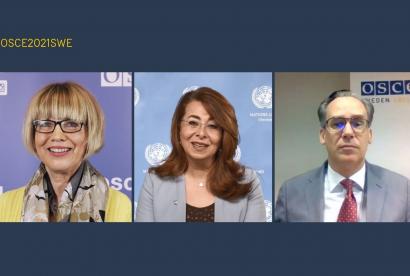 Publishing date:
1 June 2021
Content type:
Press release
VIENNA, 1 June 2021 — Tackling drug trafficking and its links with other forms of organized crime requires a co-ordinated and co-operative approach, said participants at the opening of this year's OSCE-wide Conference on Combating the Threat of Illicit Drugs and the Diversion of Chemical Precursors being held online today.
Publishing date:
19 May 2021
Strengthening the involvement of civil society organizations in the social re-use of assets confiscated from organized crime was the focus of two OSCE training courses held in Albania on 28 and 29 April 2021 and in North Macedonia on 17 and 18 May 2021.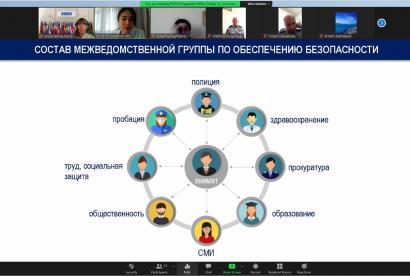 Publishing date:
17 May 2021
Sharing international strategies and best practices from across the OSCE region is the aim of an OSCE workshop series for Armenia's Ministry of Justice and police launched on 17 May 2021. The online workshops are designed to support Armenia's implementation of police reforms by strengthening community policing strategies.
Publishing date:
6 May 2021
On 5 May 2021, the Serbian Directorate for the Administration of Seized Assets, eight local civil society organizations (CSOs) and OSCE experts discussed opportunities and modalities to socially re-use assets confiscated from organized crime...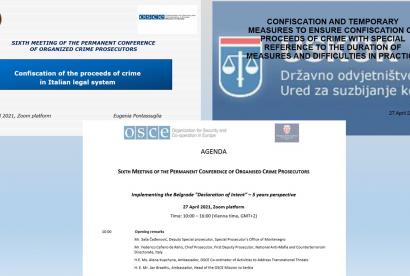 Publishing date:
29 April 2021
Over 30 participants took part in the sixth meeting of the Permanent Conference of Organized Crime Prosecutors (PCOCP) organized online by the OSCE Secretariat in collaboration with the OSCE Mission to Serbia, on 27 April 2021.
Publishing date:
18 March 2021
Law enforcement agencies' responses to the COVID-19 pandemic and international best practices were the focus of an online OSCE workshop for Ministry of internal affairs officials, law enforcement officers and health authorities in Kazakhstan held on 18 March 2021.