News and press releases from the OSCE's global activities.
Publishing date:
29 June 2020
The disruption of labour mobility during the COVID-19 crisis and possible ways forward to address the post-pandemic recovery were the focus of an OSCE webinar held on 26 June 2020...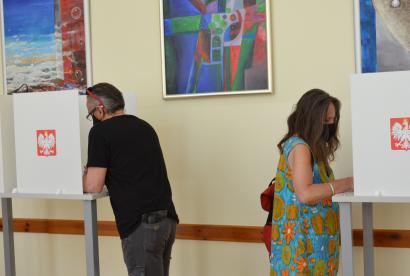 Publishing date:
29 June 2020
Content type:
Press release
WARSAW, 29 June 2020 – Poland's presidential election was administered professionally despite the lack of legal clarity as solutions were sought to hold the election during the COVID-19 pandemic. The campaign was characterised by intolerant rhetoric and a public broadcaster that failed in its duty to offer balanced and impartial coverage, international observers from the OSCE Office for Democratic Institutions and Human Rights (ODIHR) said in a statement today...
Publishing date:
29 June 2020
The OSCE Centre in Ashgabat online roundtable discussion on the exchange of best practices on integrating the use of information and communications technologies (ICT) into the teaching process started on 29 June 2020 in Ashgabat...
Publishing date:
27 June 2020
Content type:
Daily report
Summary Compared with the previous reporting period, the SMM recorded more ceasefire violations in both Donetsk and Luhansk regions. Members of the armed formations continued to deny the Mission passage at checkpoints along official crossing routes in Donetsk and Luhansk regions.* The Mission
Publishing date:
27 June 2020
Content type:
Spot report
From 20 to 26 June, members of the armed formations again denied the SMM attempts to cross into non-government-controlled areas along official crossing routes: six times in Donetsk region and twice in Luhansk region, while further attempts to cross into government-controlled areas were also denied
Publishing date:
26 June 2020
A delegation led by Aleksa Ivanović, Chair of the State Election Commission, and including Darko Brajović, National Programme Officer at the OSCE Mission to Montenegro, met with representatives of municipal election commissions. The meetings aimed to review election readiness, voting procedures, accessibility of polling stations, and new challenges in administering elections during the pandemic.
Publishing date:
26 June 2020
Content type:
Daily report
Summary Compared with the previous reporting period, the SMM recorded more ceasefire violations in both Donetsk and Luhansk regions. The SMM followed up on reports of a man who died from shrapnel injuries on 22 June in Oleksandrivka, Donetsk region. Members of the armed formations continued to deny