News and press releases from the OSCE's global activities.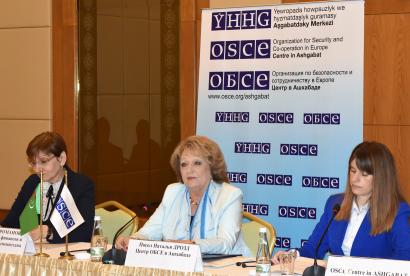 Publishing date:
22 May 2019
"Towards Regional Economic Connectivity – National Mechanisms for Trade and Transport Facilitation" was the title of an OSCE regional expert seminar that ended in Ashgabat on 22 May 2019...
Publishing date:
21 May 2019
Elections experts from the OSCE Office for Democratic Institutions and Human Rights (ODIHR) presented their  final report in Yerevan on the early parliamentary elections in Armenia that took place on 9 December 2018. The findings and recommendations were presented during a series of meetings with
Publishing date:
21 May 2019
Content type:
Daily report
Compared with the previous 24 hours, the Mission recorded fewer ceasefire violations in Donetsk region and more in Luhansk region. A man was injured by small-arms fire in Donetsk city. Small-arms fire was directed at an SMM mini-unmanned aerial vehicle near Chermalyk. The Mission saw a tank in violation of withdrawal lines in Luhansk city. The SMM facilitated and monitored adherence to the ceasefire to enable repairs to and the operation of critical civilian infrastructure. Restrictions of the SMM's access continued in all three disengagement areas and elsewhere. The Mission's freedom of movement was also restricted in non-government-controlled areas of Donetsk and Luhansk regions at a checkpoint near Novoazovsk and a compound of the armed formations in Stare.* The Mission saw a gathering in Kyiv on the occasion of the presidential inauguration...
Publishing date:
21 May 2019
Content type:
Weekly report
Kamensk-Shakhtinskiy, Russian Federation. The Observer Mission (OM) continues to operate 24/7 at both Border Crossing Points (BCPs). The overall number of border crossings by persons decreased at both BCPs compared to the previous week.
Publishing date:
21 May 2019
Content type:
Press release
ASHGABAT, 21 May 2019 – Visiting Turkmenistan today, the OSCE Chairperson-in-Office and Slovakia's Foreign and European Affairs Minister, Miroslav Lajčák, underlined the strategic importance of Central Asia for Eurasian security.
Publishing date:
21 May 2019
The OSCE Programme Office in Bishkek, led by Head of Office Pierre von Arx, visited the southern provinces of Kyrgyzstan, Osh, Jalal-Abad and Batken from 12 to 18 May 2019 to follow up on and plan programmatic activities with local authorities, implementing partners and civil society...
Publishing date:
21 May 2019
On 15 and 17 May 2019 the Head of the OSCE Programme Office in Bishkek, Ambassador Pierre von Arx, together with local authorities, members of the Kyrgyz Parliament and entrepreneurs, opened two new Entrepreneurship Support Centres (ECS) in the cities of Djalal-Abad and Batken, southern Kyrgyzstan.