News and press releases from the OSCE's global activities.
Publishing date:
1 March 2019
A three-day train-the-trainer course for Albanian participants on countering terrorist financing was organized in Vienna from 27 February to 1 March 2019 by the OSCE's Transnational Threats Department, in co-operation with the OSCE Presence in Albania, and the UN Office on Drugs and Crime's Global Programme against Money Laundering (UNODC/GPML)...
Publishing date:
22 February 2019
Content type:
Press release
VIENNA, 22 February 2019 – The OSCE Parliamentary Assembly's 18th Winter Meeting concluded today in Vienna with lively debates on migration, counter-terrorism, gender issues, and combating corruption. With nearly 300 OSCE parliamentarians in attendance, Chairs of OSCE PA ad hoc committees, Special Representatives, and leaders of recent election observation missions presented reports at today's closing plenary session...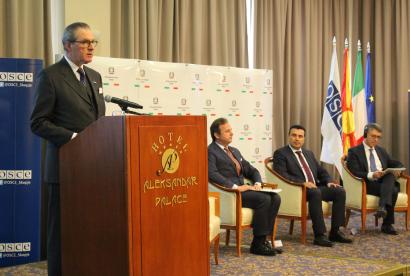 Publishing date:
22 February 2019
Content type:
Press release
SKOPJE, 22 February 2019 – The Prime Minister, the Ministers of the Interior and Justice and the New President of the State Commission for Prevention of Corruption addressed a conference on the role of law enforcement agencies in the struggle against corruption, which was organized by the OSCE Mission in Skopje and the Italian Embassy today...
Publishing date:
31 January 2019
TIRANA, 31 January 2019- Transparency International published the results of its Corruption Perceptions Index (CPI) 2018 ranking Albania at place 99 among the 180 countries and territories included in the index.
Publishing date:
20 December 2018
The OSCE Mission to Skopje presented today a Legal Commentary on the Law on Criminal Procedure, the first of its kind, prepared by a group of legal experts that will help lawyers, judges and prosecutors apply the Law in a better and more uniform fashion in the courts.
Publishing date:
20 December 2018
A two-day train-the-trainer course aimed at strengthening the capacity of Albania to disrupt the financing of terrorist networks was held on 18 and 19 December 2018 in Vienna...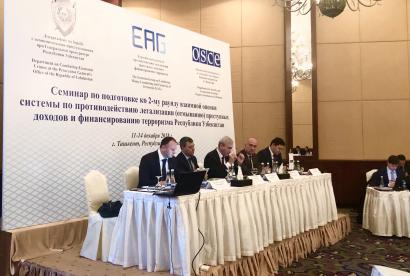 Publishing date:
14 December 2018
Countering money laundering and the financing of terrorism was the focus of a workshop for regulators and policymakers organized by the OSCE Project Co-ordinator in Uzbekistan with the co-operation of the Department on Combating Economic Crimes under the General Prosecutor's Office of Uzbekistan and the Eurasian Group on Combating Money Laundering and Financing of Terrorism (EAG) from 11 to 14 December 2018 in Tashkent...