News and press releases from the OSCE's global activities.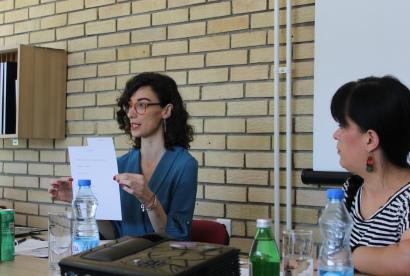 Publishing date:
1 July 2020
Ensuring accessibility for all voters at polling stations is essential and the responsibility of election commissions. This was the conclusion of representatives of the Montenegrin State Election Commission at a workshop organized by the Association of the Blind of Montenegro on 30 June in Podgorica...
Publishing date:
1 July 2020
Content type:
Press release
COPENHAGEN/NAPLES/NEW YORK, 30 June 2020 – On the occasion of the International Day of Parliamentarism the United Nations Office of Counter-Terrorism (UNOCT), the OSCE Parliamentary Assembly and the Parliamentary Assembly of the Mediterranean (PAM) co-organized an online event on the role of parliamentarians in countering terrorism in the context of the COVID-19 pandemic. The objective of the event was to deepen co-operation in response to the ongoing threat posed by terrorism and violent extremism in the midst of the unprecedented crisis all nations face...
Publishing date:
30 June 2020
Content type:
Daily report
Summary Compared with the previous 24 hours, the SMM recorded fewer ceasefire violations in both Donetsk and Luhansk regions. Members of the armed formations continued to deny the Mission passage at checkpoints along official crossing routes in Donetsk and Luhansk regions.* The Mission continued
Publishing date:
30 June 2020
Content type:
Press release
MOSCOW / PARIS / WASHINGTON, DC, 30 June 2020- The Co-Chairs of the OSCE Minsk Group (Igor Popov of the Russian Federation, Stéphane Visconti of France, and Andrew Schofer of the United States of America) met separately and jointly via video conference on 29-30 June with Armenian Foreign Minister Zohrab Mnatsakanyan and Azerbaijani Foreign Minister Elmar Mammadyarov to discuss the public health situation in the region, current dynamics in the Nagorno-Karabakh conflict, and next steps in the peace process. Personal Representative of the OSCE Chairperson-in-Office (PRCIO) Andrzej Kasprzyk also participated in these discussions.
Publishing date:
30 June 2020
Content type:
Weekly report
Kamensk-Shakhtinskiy, Russian Federation. The Observer Mission (OM) continues to operate 24/7 at both Border Crossing Points (BCPs). The overall number of border crossings by persons increased at both BCPs compared to the previous week.
Publishing date:
29 June 2020
Content type:
Press release
Vienna, 29 June 2020 – The OSCE Representative on Freedom of the Media, Harlem Désir, expressed his concern today about the recently passed law on the Manipulation of Information in Kyrgyzstan.
Publishing date:
29 June 2020
Content type:
Daily report
Summary Compared with the previous reporting period, between the evenings of 26 and 27 June, the SMM recorded fewer ceasefire violations in both Donetsk and Luhansk regions. Compared with the previous 24 hours, between the evenings of 27 and 28 June, the Mission recorded more ceasefire violations