News and press releases from the OSCE's global activities.
Publishing date:
15 October 2020
The first in a series of three OSCE-supported regional roundtable discussions on the country's environmental challenges concluded on 15 October 2020 in Kostanay, Kazakhstan. The two-day event brought together some 25 representatives from the local authorities, the business community and environmental NGOs. The OSCE Programme Office in Nur-Sultan, in partnership with the Association of Environmental Organizations, organized the event...
Publishing date:
14 October 2020
Efforts by OSCE participating States to address the risks posed by small arms and light weapons (SALW) and stockpiles of conventional ammunition (SCA), particularly in preventing and combating the illicit trade in SALW, were the focus of a meeting organized by the German Chair of the Forum for Security Co-operation on 13 and 14 October 2020...
Publishing date:
14 October 2020
Content type:
Daily report
Summary The SMM recorded no ceasefire violations in either Donetsk or Luhansk region. In the previous reporting period, it recorded 14 ceasefire violations in Donetsk region and one in Luhansk region. The Mission had previously recorded no ceasefire violations in either region between the evenings
Publishing date:
14 October 2020
On the occasion of the 20th anniversary of the landmark UN Security Council Resolution 1325 on Women, Peace and Security (WPS), the OSCE and UN Women joined forces to host an online event on 12 October 2020. Experts reviewed commitments and charted the way forward on this landmark resolution, the first international agreement recognizing that conflict affects women differently than men and calling for the meaningful participation of women in peace processes. A wide range of WPS practitioners from civil society and women's organizations, government officials and representatives of international organizations participated in the event.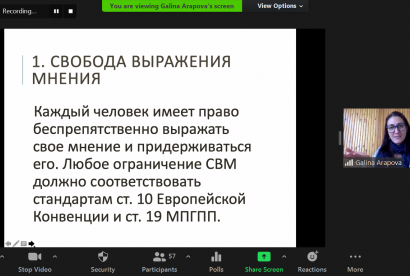 Publishing date:
14 October 2020
An OSCE-supported seminar on the protection of freedom of expression and the judicial regulation of defamation took place on 10 October 2020 in Nur-Sultan. The OSCE Programme Office in Nur-Sultan co-organized the event with the Academy of Justice under the Supreme Court (Academy), NGO Legal Media Centre, Internews Kazakhstan and the United States Agency for International Development (USAID). Some 55 Master students of the Academy attended the seminar...
Publishing date:
13 October 2020
Content type:
Daily report
Summary The SMM recorded 14 ceasefire violations in Donetsk region and one in Luhansk region. In the previous 24 hours, it recorded six ceasefire violations in Donetsk region and none in Luhansk region. Two teenage boys were injured by the detonation of an explosive device in Nyzhnia Krynka,
Publishing date:
13 October 2020
Content type:
Weekly report