News and press releases from the OSCE's global activities.
Publishing date:
14 October 2020
On the occasion of the 20th anniversary of the landmark UN Security Council Resolution 1325 on Women, Peace and Security (WPS), the OSCE and UN Women joined forces to host an online event on 12 October 2020. Experts reviewed commitments and charted the way forward on this landmark resolution, the first international agreement recognizing that conflict affects women differently than men and calling for the meaningful participation of women in peace processes. A wide range of WPS practitioners from civil society and women's organizations, government officials and representatives of international organizations participated in the event.
Publishing date:
21 September 2020
The OSCE Programme Office in Nur-Sultan, in co-operation with the National Commission for Women, Family and Demographic Policy under the President of Kazakhstan, the UN Women Office in Kazakhstan, and the OSCE Office for Democratic Institutions and Human Rights (ODIHR) organized an online event for women politicians and those that aspire to become politically active, from 16 to 19 September 2020...
Publishing date:
16 September 2020
An OSCE-supported 6-day intensive workshop on the "Activities of state bodies during state of emergencies and emergency situations: interaction and problems. The role of women employees during emergencies", concluded today, 16 September, in Issyk-Kul, Kyrgyzstan...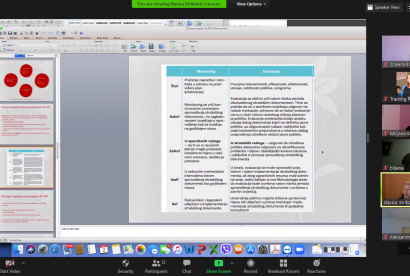 Publishing date:
8 September 2020
The OSCE Mission to Montenegro and the Ministry of Human and Minority Rights' Department for Gender Equality organized a virtual workshop for municipal Gender Focal Points' network on monitoring, evaluation and report writing, from 2 to 4 September 2020...
Publishing date:
5 August 2020
The OSCE Centre in Ashgabat organized an online roundtable discussion on gender mainstreaming in border and security management from 3 to 5 August 2020. The event brought together representatives of the State Border, Customs and Migration Services of Turkmenistan, and was held as part of an extra-budgetary project on strengthening the capacities of the State Border Service of Turkmenistan. The roundtable aimed to acquaint participants with best international practices in promoting gender aspects in law enforcement activities...
Publishing date:
30 July 2020
ODIHR and UN Women launch report on human trafficking The ODIHR and UN Women policy recommendations aim to tackle emerging human trafficking during an post COVID-19 To mark World Day Against Trafficking in Persons, the OSCE Office for Democratic Institutions and Human Rights (ODIHR) and the United
Publishing date:
27 July 2020
Content type:
Press release
COPENHAGEN, 27 July 2020 – Following an announcement stating Poland's intention to withdraw from a treaty on combating violence against women, the leaders of the OSCE PA's human rights committee expressed concerns over the ongoing developments...