News and press releases from the OSCE's global activities.
Publishing date:
21 April 2020
How to handle electronic evidence, and in particular, request electronic evidence across borders, to support counter-terrorism efforts was the focus of an online workshop held on 21 April 2020 that brought together national experts from 13 countries and several international organizations...
Publishing date:
3 March 2020
A four-day training course on disrupting the financing of terrorist networks concluded on 28 February 2020 in Dushanbe. The OSCE Programme Office in Dushanbe, in co-operation with UN Office on Drugs and Crime's Regional Office for Central Asia and the OSCE Secretariat's Transnational Threats Department/Action against Terrorism Unit organized the course.
Publishing date:
28 February 2020
Preparations for the expected regular Eurasian group's (EAG) mutual evaluation of Turkmenistan's compliance to the Financial Action Task Force's (FATF) standards on anti-money laundering and countering of financing of terrorism (AML/CFT) efforts, including 11 indicators of effectiveness and 40 technical recommendations, were the focus of an OSCE seminar from 26 to 28 February 2020 in Ashgabat. The seminar was attended by representatives of law enforcement agencies, supervisory bodies, and other relevant government and non-government agencies...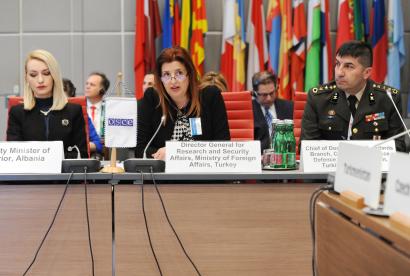 Publishing date:
27 February 2020
Content type:
Press release
VIENNA, 27 February 2020 – Enhancing co-operation between the OSCE's Forum for Security Co-operation (FSC) and the Permanent Council (PC) in preventing and countering terrorism was the focus of a joint meeting of the FSC and PC held on 26 February in Vienna under Turkey's FSC Chairmanship and Albania's OSCE Chairmanship. The discussions focused on how the FSC, as the OSCE's leading decision-making body in the politico-military sphere, can contribute, in line with its mandate and existing instruments, to the OSCE's comprehensive approach to combating terrorism...
Publishing date:
21 February 2020
Content type:
Press release
VIENNA, 21 February 2020 – In the wake of a racially motivated attack in the German town of Hanau on Wednesday, OSCE parliamentarians gathering in Vienna for the OSCE Parliamentary Assembly's 19th Winter Meeting today held a timely debate on combating anti-Semitism, discrimination and intolerance in the OSCE region...
Publishing date:
18 February 2020
Content type:
Press release
The Arabic language version of the OSCE guidebook on "Understanding the Role of Gender in Preventing and Countering Violent Extremism and Radicalization That Lead to Terrorism (P/CVERLT): Good Practices for Law Enforcement" was launched in Cairo on 17 February 2020. The guidebook, the first of its kind, is the result of a two-year collaborative effort by experts on gender, the security sector and countering violent extremism based on case studies from across the OSCE area. The event was organized jointly by the OSCE and the League of Arab States (LAS).
Publishing date:
12 February 2020
A meeting on establishing an Advance Passenger Information (API) system for enhancing border and aviation security in Armenia took place in Yerevan on 11 and 12 February 2020. The event is a follow-up to the national workshop held in June 2019 that resulted in the drafting of a roadmap outlining the necessary steps Armenia needs to take to establish an API system.