News and press releases from the OSCE's global activities.
Publishing date:
26 November 2013
A major OSCE-supported event brought together neighbourhood inspectors, juvenile delinquency inspectors and members of local crime prevention centres from across Kyrgyzstan in Osh, southern Kyrgyzstan on 26 November 2013...
Publishing date:
22 November 2013
Content type:
Press release
ISSYK-KUL, Kyrgyzstan, 22 November 2013 – Developing effective responses to domestic violence was the focus of an OSCE-supported series of training courses for Kyrgyz police officers that concluded today in the towns of Cholpon-Ata and Karakol in Issyk-Kul province in northern Kyrgyzstan...
Publishing date:
11 November 2013
A delegation of senior Afghan police officers is participating in an OSCE-supported peer-to-peer visit to Kyrgyzstan from 11 to 15 November 2013...
Publishing date:
1 November 2013
A neighborhood inspector's office opened with the OSCE support in Kok-Art micro district of Kyrgyzstan's southern city of Jalal-Abad on 1 November 2013. The project was proposed and supported by the local community to counteract a recent surge in the number of car thefts in the area with some 30,000 residents...
Publishing date:
24 August 2013
An OSCE-supported seminar on the role of the police in the observance and protection of human rights, led by the experts of the Interior Ministry Police Academy, ended today at the Ministry's facility in Issy-Kul province...
Publishing date:
16 August 2013
The last batch of brochures to assist Kyrgyzstan's patrol police officers in dealing with English-speaking tourists published by the OSCE Centre in Bishkek was distributed among police officers on 16 August 2013...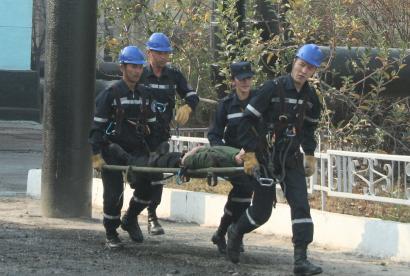 Publishing date:
21 December 2012
A two-week training course on hostage negotiation for the personnel of Kyrgyzstan's relevant state agencies ended in Bishkek on 21 December 2012. The course was organized by the OSCE Centre in Bishkek in co-operation with the Antiterrorism Centre of the State Committee on National Security...