News and press releases from the OSCE's global activities.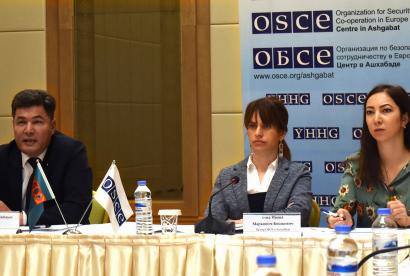 Publishing date:
17 April 2018
The development of a road map on solar energy in Turkmenistan was the focus of an OSCE-supported discussion in Ashgabat on 17 April 2018 for officials from the Ministry of Energy, the Ministry of Finance and Economy, the Institute of Solar Energy of the Academy of Science of Turkmenistan, the State Committee for Environment Protection and Land Resources, professors from the Mary Turkmen State Energy Institute and representatives of other relevant institutions and nature protection public organizations...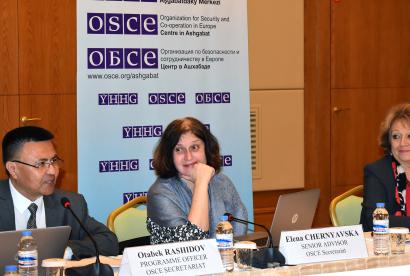 Publishing date:
10 April 2018
A two-day seminar on countering the use of the Internet for terrorist purposes, organized by the OSCE Centre in Ashgabat and the OSCE Secretariat's Action against Terrorism Unit, began on 5 April 2018 in Ashgabat...
Publishing date:
10 April 2018
The OSCE Centre in Ashgabat, in co-operation with the OSCE Secretariat's Transnational Threats Department, organized a two-day seminar entitled "Countering Violent Extremism and Radicalization that Lead to Terrorism (VERLT): a Comprehensive Approach", which concluded in Ashgabat on 4 April 2018. The seminar, the first of its kind in Turkmenistan, served as a platform for policy discussion on preventing and countering VERLT in Turkmenistan. It also aimed to promote a better understanding of the current global and regional trends in VERLT. A particular emphasis was put on regional challenges related to terrorist radicalization.
Publishing date:
15 December 2017
International standards and best practices on the independence of the judiciary in the context of criminal justice are the focus of an OSCE-supported series of three two-day seminars that started in Dashoguz on 15 December 2017 and will be continued in Mary until 18 December. The concluding seminar will be held in January 2018 in Ashgabat.
Publishing date:
15 December 2017
Effective mechanisms for responding to natural disasters and emergencies were the focus of a seminar organized by the OSCE for members of the State Commission for Emergency Situations of Turkmenistan and representatives of other relevant bodies held in Ashgabat on 14 and 15 December 2017.
Publishing date:
7 December 2017
Representatives of law-enforcement bodies and prison officials involved in providing psychological support to inmates discussed the main principles of their work and learned from international experts about relevant practices in the OSCE region at an OSCE-organized seminar that concluded in Ashgabat on 7 December 2017.
Publishing date:
15 November 2017