News and press releases from the OSCE's global activities.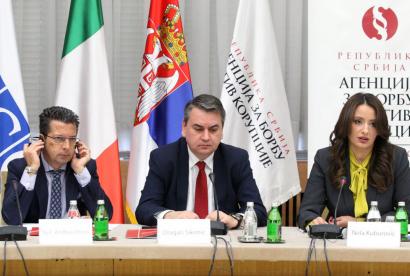 Publishing date:
14 December 2018
More than 100 high-level officials from South-Eastern Europe dealing with preventing corruption, together with senior representatives of Serbian institutions, civil society organizations and the media gathered for a regional conference in Belgrade on 13 and 14 December 2018 to mark International Anti-Corruption Day...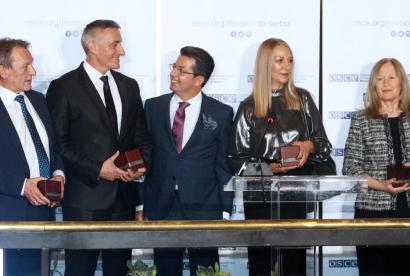 Publishing date:
4 December 2018
Content type:
Press release
BELGRADE, 4 December 2018 – Aleksandar Alimpić, Governor of the Sremska Mitrovica Correctional Institution; Mileva Malesić, Director of TV Forum from Prijepolje, Dejana Milijić Subić, Deputy Director of the Institute for the Improvement of Education; and Dragomir Milojević, President of the Supreme Court of Cassation will be presented with the 2018 OSCE Mission to Serbia's Person of the Year Award at a ceremony today in Belgrade.
Publishing date:
3 December 2018
The second OSCE-supported intercultural camp in Brčko was held from 29 November to 3 December 2018. The OSCE Mission to BiH, in partnership with the OSCE Mission to Serbia and the Education Department of the Brcko District government, organized the follow-up camp to heighten the participants' awareness of their potential role in promoting civic education, human rights, inter-cultural dialogue, as well as in tackling peer violence and other security threats.
Publishing date:
6 November 2018
BELGRADE, 6 November 2018 – The OSCE Mission to Serbia, in close partnership with the Ministry of the Interior (MoI) on 6 and 7 November organized a training course for building police capacities in cyber forensics and investigating cybercrime.
Publishing date:
2 November 2018
A one-week training course for 15 Serbian border guards to enhance their skills in detecting forged and fraudulent documents as well as imposters was held from 29 October to 2 November 2018 in Belgrade. The course was organized by the Border Security and Management Unit of the OSCE's Transnational Threats Department...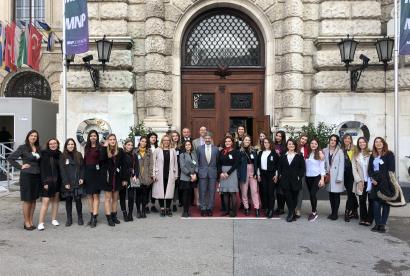 Publishing date:
22 October 2018
The fourth OSCE Dialogue Academy for Young Women, which brought together 24 participants from Belgrade and Prishtinë/Priština, concluded on 21 October 2018 in Stadtschlaining, Austria...
Publishing date:
22 June 2018