News and press releases from the OSCE's global activities.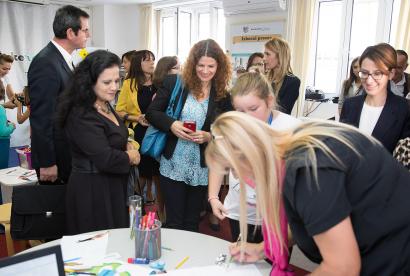 Publishing date:
29 September 2016
The Parliament of Montenegro, with the support of the OSCE Presence in Albania and the Mission to Montenegro, hosted a visit of the Research Centre and public relations services of the Parliament of Albania on 23 September 2016 in Podgorica, with the aim of goal of strengthening co-operation between the two institutions and enhancing their activities...
Publishing date:
16 September 2016
The OSCE Mission to Montenegro held the first in a series of three training courses for Montenegrin Senior Administration Management of the Parliamentary service, in co-operation with the Parliamentary Department for Human Resources, from 15 to 16 September 2016, in Podgorica...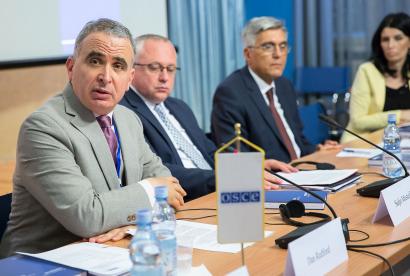 Publishing date:
3 June 2016
Secretaries General and Deputy Secretaries General of Western Balkans parliaments, heads of human resources and information and communications technology departments, legal advisors and representatives of OSCE Missions in the region took part in a meeting on strategic and annual planning in parliaments in Podgorica, Montenegro on 1 and 2 June 2016...
Publishing date:
25 October 2015
Content type:
Press release
PODGORICA, 25 October 2015 – The OSCE Mission to Montenegro condemns the acts of violence that took place last night in Podgorica, which resulted in damage to property, including the Albanian Embassy, and injuries to police officers, journalists and civilians. Violence in the pursuit of political aims has no place in modern democratic societies.
Publishing date:
21 September 2015
The code of ethics for members of Parliament (MP) was the main topic of discussion at the OSCE-organized seminar, which took place on 17 September 2015 in Podgorica, Montenegro...
Publishing date:
14 September 2015
First of the twenty talk shows in series named "Reaching the Trust Together" was aired on 7th September 2015 on the First Channel of Radio Television Montenegro. The series is supported by the OSCE Mission to Montenegro...
Publishing date:
22 April 2013
Implementation of the new Law on Free Access to Information was the focus of a roundtable discussion organized by OSCE Mission to Montenegro and the Human Resources Management Authority on 22 April 2013 in Podgorica...