News and press releases from the OSCE's global activities.
Publishing date:
25 May 2019
Content type:
Press release
VIENNA, 25 May 2019 – OSCE Representative on Freedom of the Media, Harlem Désir, today strongly denounced the shooting of journalist Hakan Denizli in Turkey. Denizli, founder of the local daily Egemen, was shot in the leg after two persons opened fire while he was leaving his home in Adana.
Publishing date:
24 May 2019
Content type:
Daily report
• Compared with the previous reporting period, the Mission recorded more ceasefire violations in both Donetsk and Luhansk regions. • The Mission observed weapons in violation of withdrawal lines in Mariupol, Volnovakha and near Khrustalnyi. • The Mission observed ceasefire violations inside the Zolote disengagement area. • The Mission continued to observe hardship faced by civilians at checkpoints along the contact line. • The SMM facilitated and monitored adherence to the ceasefire to enable repairs to and the operation of critical civilian infrastructure. • Restrictions of the SMM's access continued in all three disengagement areas.* • In Chernivtsi, the Mission saw a gathering in relation to the change of religious affiliations of local churches.
Publishing date:
24 May 2019
Forty young people from all over the Western Balkans gathered on 23 May 2019 in Tirana to participate in the Youth Trail 2019...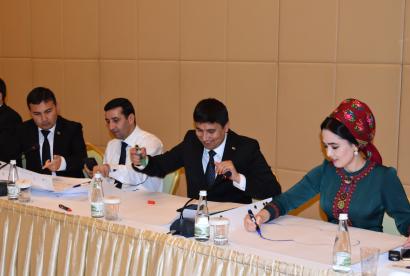 Publishing date:
24 May 2019
An OSCE-organized seminar on media law reforms in the digital age for representatives of Turkmenistan's parliament, the Mejlis, the Office of the Ombudsperson, relevant ministries, research and educational institutions, as well as Turkmenistan's print, online and broadcast media took place in Ashgabat on 23 and 24 May 2019
Publishing date:
24 May 2019
The OSCE Mission to Montenegro held a two-day train-the-trainers workshop for parliamentary staff on communication and presentation skills, which concluded on 24 May 2019 in Podgorica. The event was in organized in co-operation with the Department for Human Resources of the parliament.
Publishing date:
24 May 2019
Content type:
Press release
OSLO, 24 May 2019 – Arctic countries need to maintain concerted efforts to safeguard the High North as an area of peaceful co-operation, while all OSCE countries must commit to the protection of the nature and biodiversity of the Arctic, a delegation of OSCE parliamentarians highlighted today in a visit to Oslo...
Publishing date:
24 May 2019
Content type:
Press release
TIRANA, 24 May 2019 – The OSCE Office for Democratic Institutions and Human Rights (ODIHR) today formally opened an election observation mission for the 30 June local elections in Albania. The mission's deployment follows an official invitation from the country's authorities...