News and press releases from the OSCE's global activities.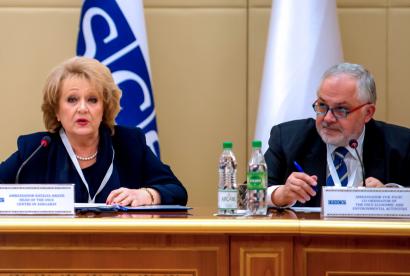 Publishing date:
31 May 2018
"Good Governance and Economic Connectivity- best practices within the OSCE region" was the topic of the OSCE Regional Ministerial Conference organized by the OSCE and the Government of Turkmenistan that ended in Ashgabat on 31 May 2018...
Publishing date:
22 May 2018
Representatives of Turkmenistan's State Committee for Television, Radio and Cinematography, lawmakers, journalists and officials from relevant ministries and research and educational institutions discussed broadcasting regulation and new models of broadcasting at an OSCE-supported seminar. The event took place in Ashgabat on 21 and 22 May 2018...
Publishing date:
14 May 2018
An OSCE-supported two-day regional workshop on promoting border management and security was held on 7 and 8 May 2018 in Ashgabat.
Publishing date:
27 April 2018
Representatives of the State Commission on Emergency Situations, military and law-enforcement bodies, the State Seismology Service under the Academy of Science, and relevant ministries discussed the protection of energy infrastructure from natural hazards at an OSCE-organized seminar held in Ashgabat on 26 and 27 April 2018.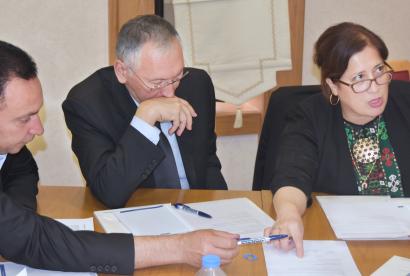 Publishing date:
25 April 2018
Indicators of money laundering, terrorism financing and corruption and best practices for interagency co-operation were discussed at an OSCE-organized seminar that concluded on 25 April 2018 in Ashgabat...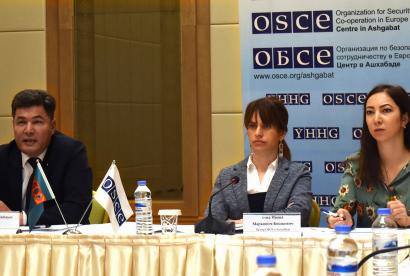 Publishing date:
17 April 2018
The development of a road map on solar energy in Turkmenistan was the focus of an OSCE-supported discussion in Ashgabat on 17 April 2018 for officials from the Ministry of Energy, the Ministry of Finance and Economy, the Institute of Solar Energy of the Academy of Science of Turkmenistan, the State Committee for Environment Protection and Land Resources, professors from the Mary Turkmen State Energy Institute and representatives of other relevant institutions and nature protection public organizations...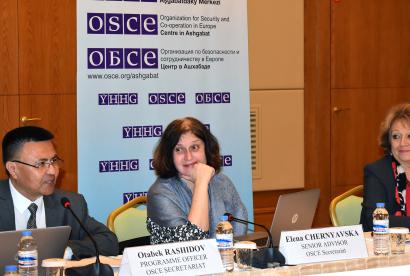 Publishing date:
10 April 2018