News and press releases from the OSCE's global activities.
Publishing date:
18 September 2018
Representatives from Kazakhstan, Kyrgyzstan, Turkmenistan and Uzbekistan participated in an OSCE-supported two-day regional seminar "Combatting financing of terrorism: best practices within the OSCE region". The event concluded in Ashgabat on 18 September 2018.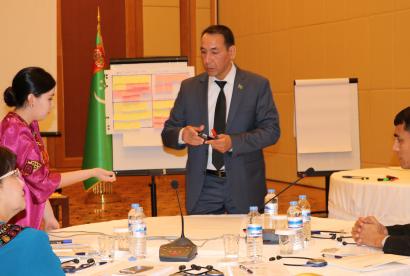 Publishing date:
30 August 2018
Representatives of government institutions and public organizations discussed topical issues of migration and the role of the OSCE in migration governance at an OSCE-organized roundtable discussion that took place in Ashgabat from 29 to 30 August 2018...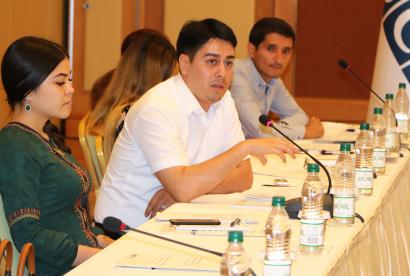 Publishing date:
29 August 2018
A two-day seminar organized by the OSCE Centre in Ashgabat on how to develop a module on freedom of expression for journalism faculties in Turkmenistan concluded on 29 August 2018. It brought together journalism instructors, representatives of national media and officials from relevant institutions
Publishing date:
21 August 2018
The International Organization for Migration (IOM) office in Turkmenistan and the OSCE Centre in Ashgabat organized a workshop from 16 to 17 August on how to set up an Advance Passenger Information (API) system in Turkmenistan. The event was part of wider efforts to prevent the movement of foreign terrorist fighters (FTFs) and enhance aviation security.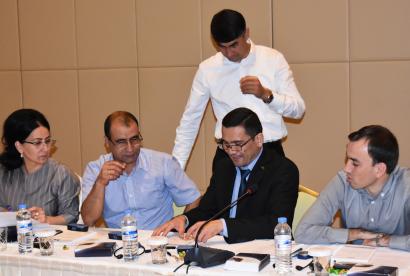 Publishing date:
16 August 2018
On 14- 16 August 2018, the OSCE Mobile Training Team delivered an interactive course on identifying foreign terrorist fighters for officers of Turkmenistan's border and migration services in Ashgabat. The deployment of the Training Team was organized by the Border Security and Management Unit of the OSCE Transnational Threats Department, with the support of the OSCE Centre in Ashgabat and in close co-operation with the host country.
Publishing date:
31 July 2018
Representatives of the State Environmental Committee on Environmental Protection and Land Resources of Turkmenistan, the Mejlis (parliament), Ministry of Justice and other relevant agencies of Turkmenistan discussed the development of national environmental legislation at an OSCE-organized seminar held on 30 and 31 July 2018 in Ashgabat...
Publishing date:
16 July 2018
An OSCE-organized national seminar on professional integrity and ethical standards in law enforcement took place on 12 and 13 July 2018 in Ashgabat. Officials from the national security, interior, justice and defence ministries, the Supreme Court, the State Service to Combat Economic Crimes, the State Migration Service and other law enforcement bodies of Turkmenistan participated in the event.