News and press releases from the OSCE's global activities.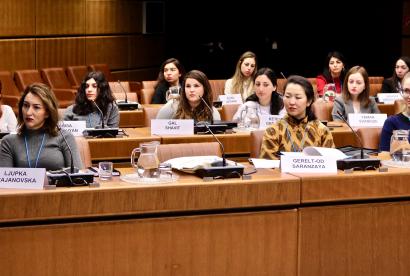 Publishing date:
19 February 2018
An OSCE-organized training course on arms control, disarmament and non-proliferation was held for 50 young professionals from the OSCE region and the Organization's Partners for Co-operation from 12 to 16 February in Vienna. The course was held in the framework of the OSCE Scholarship for Peace and Security and jointly organized by the OSCE together with the United Nations Office for Disarmament Affairs.
Publishing date:
5 February 2018
Women from the OSCE area face numerous challenges and barriers to fully participate in economic, social and political life. In 2013 the OSCE Gender Section, in co-operation with the Danish organization KVINFO, initiated a project on establishing mentor networks, with the ultimate goal to empower women in the OSCE region.
Publishing date:
1 February 2018
What strategies are needed to reach gender parity in international and regional organizations like the United Nations and the OSCE? Some fifty delegates of OSCE participating States and OSCE staff members gathered to exchange views on this question at Café Demel in Vienna on 30 January 2018. The event was organized by the Gender Section of the Office of the OSCE Secretary General in co-operation with Norway's Permanent Delegation to the OSCE.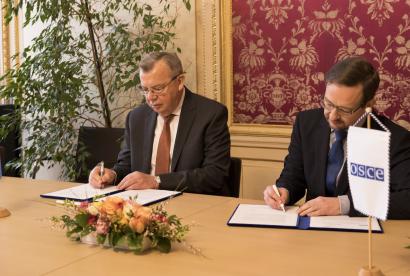 Publishing date:
31 January 2018
Content type:
Press release
VIENNA, 31 January 2018 – A plan for joint action by the OSCE and the United Nations Office on Drugs and Crime (UNODC) for the period 2018-2019 was signed by OSCE Secretary General Thomas Greminger and UNODC Executive Director Yury Fedotov today at the OSCE Secretariat in Vienna.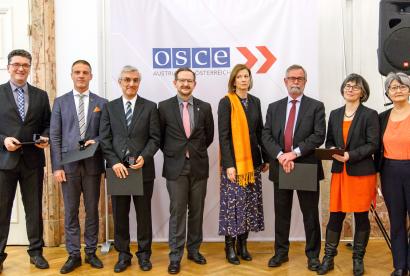 Publishing date:
30 November 2017
Four ambassadors and two military attaches representing their countries in the OSCE are the winners of the fourth White Ribbon Award in recognition of their personal commitment and achievements in promoting gender equality. The award ceremony was held on 30 November 2017, at the Hofburg in Vienna.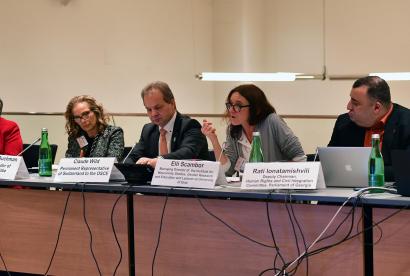 Publishing date:
28 November 2017
The importance of involving men alongside women to move forward in achieving gender equality was the focus of an OSCE-organized MenEngage expert meeting on 24 November 2017 in Vienna.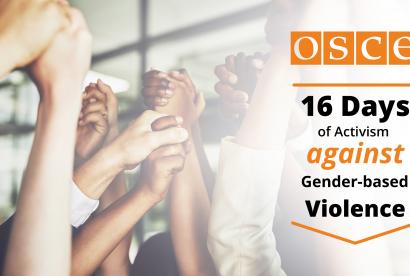 Publishing date:
24 November 2017
Content type:
Press release
VIENNA / WARSAW, 24 November 2017 – Ahead of tomorrow's International Day for the Elimination of Violence Against Women, and the start of the 16 Days of Activism against Gender-based Violence, senior OSCE leaders today called on participating States to increase efforts to end this human rights violation.