News and press releases from the OSCE's global activities.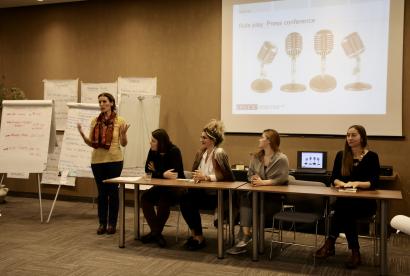 Publishing date:
18 November 2019
Fifteen representatives of civil society and OSCE field operations from across South-Eastern Europe participated in a regional train-the-trainer seminar for future facilitators of courses tailored for women leaders on preventing violent extremism and radicalization that lead to terrorism. The seminar, held in Belgrade from 11 to 16 November 2019, was organized by the Action against Terrorism Unit of the OSCE Transnational Threats Department...
Publishing date:
10 October 2019
Content type:
Press release
BELGRADE, 10 October 2019 – OSCE Secretary General Thomas Greminger concluded today a two-day visit to Serbia where he met with high-level state officials and representatives of the opposition, civil society and the media...
Publishing date:
17 September 2019
The OSCE Mission to Serbia, in co-operation with Serbia's institutions, launched the 2019 Professional Practice Programme on 17 September in Belgrade. The Programme enables five young professionals from Novi Pazar and Raška, southwest Serbia, to work with central institutions from September to December 2019. It is the first part of the two-year project Legal Learning Project for Southwest Serbia, funded by the U.S. Mission to the OSCE...
Publishing date:
4 June 2019
Content type:
Press release
BELGRADE, 4 June 2019 – Visiting Serbia today as part of his commitment to visit all OSCE field missions, the OSCE Chairperson-in-Office Slovak Foreign and European Affairs Minister Miroslav Lajčák, together with First Deputy Prime Minister and Minister of Foreign Affairs of Serbia Ivica Dačić and the Head of the OSCE Mission to Serbia, Andrea Orizio, opened the High-Level Discussion on Security Sector Governance and Reform (SSG/R) in South-Eastern Europe in Belgrade...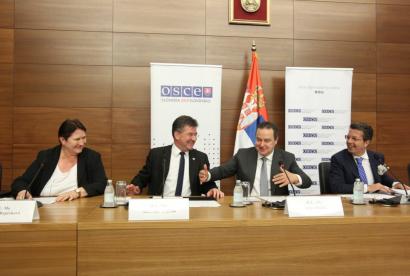 Publishing date:
4 June 2019
Content type:
Press release
BELGRADE, 4 June 2019 – Only an inclusive, accountable and democratically controlled security sector with full respect for human rights, gender equality and the rule of law can effectively provide security to a state and its citizens, said speakers at a high-level discussion in Belgrade today ahead of a two-day regional meeting organized by the Slovak OSCE Chairmanship and the OSCE Secretariat on security sector governance and reform (SSG/R)...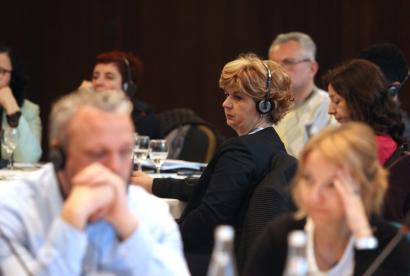 Publishing date:
18 April 2019
Lobbying against corruption was the topic of a training event organized by the OSCE Office for Democratic Institutions and Human Rights (ODIHR) and the OSCE Mission to Serbia from 16 to 18 April in Belgrade. The event gathered 52 participants (36 women and 16 men) from the Serbian Anti-Corruption Agency, the Embassy of the United States and civil society organizations...
Publishing date:
15 March 2019
The OSCE Mission to Serbia handed over IT equipment to the Interior Ministry's Anti-corruption Department on the occasion of its first anniversary, on 15 March 2019. The donation will contribute to enhancing the technical capacity of the department to conduct efficient and effective investigations of economic crime and corruption...