News and press releases from the OSCE's global activities.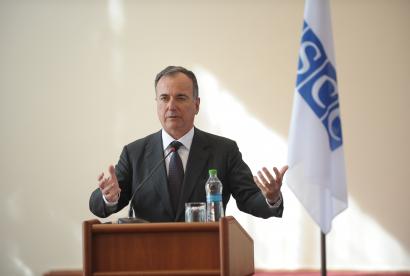 Publishing date:
11 May 2019
Content type:
Press release
CHISINAU, 11 May 2019 – Concluding his meetings today, the OSCE Special Representative for the Transdniestrian Settlement Process, Franco Frattini, urged the Sides to step up efforts to maintain the positive dynamic in the settlement process for the benefit of people on both banks of the Dniester/Nistru River.
Publishing date:
10 May 2019
Content type:
Daily report
Compared with the previous reporting period, the SMM recorded more ceasefire violations in Donetsk region and fewer in Luhansk region. It recorded ceasefire violations and military presence inside the Zolote disengagement area. The SMM observed weapons in violation of withdrawal lines on both sides of the contact line, including some used as part of military-style parades in Donetsk and Luhansk cities. It observed fresh damage from gunfire to a functioning school in Troitske and residential property in Zolote-4/Rodina. The SMM facilitated and monitored adherence to the ceasefire to enable repairs to civilian infrastructure. It also continued to facilitate the operation of the Donetsk Filtration Station and monitor the security situation around the pumping station near Vasylivka, in the area of which it recorded about 125 explosions. The Mission observed events in several regions of Ukraine commemorating Victory Day and Remembrance and Reconciliation Day. It observed military-style parades in non-government-controlled Donetsk and Luhansk cities. Restrictions of the Mission's access continued in all three disengagement areas. The SMM was also restricted in non-government-controlled areas at a checkpoint near Verkhnoshyrokivske and a border crossing point near Dovzhanske.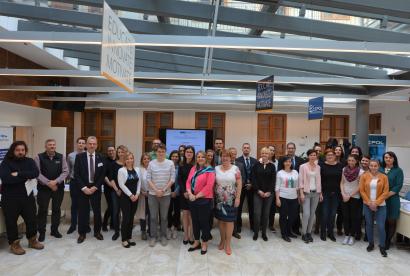 Publishing date:
10 May 2019
A four-day specialized training course on appropriate and effective responses to gender-based violence for criminal justice practitioners from Hungary was held from 6 to 10 May 2019, at the European Union Agency for Law Enforcement Training (CEPOL) headquarters in Budapest, Hungary...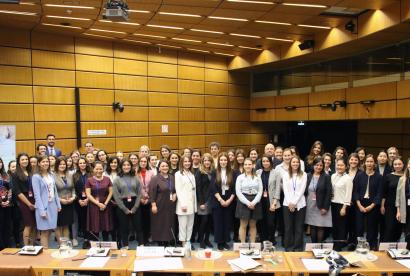 Publishing date:
10 May 2019
A training course jointly organized by the OSCE and UNODA on arms control, disarmament and non-proliferation was held for 50 young female professionals from the OSCE's participating States and Partners for Co-operation from 6 to 10 May 2019 in Vienna. The course was held as part of the OSCE Scholarship for Peace and Security...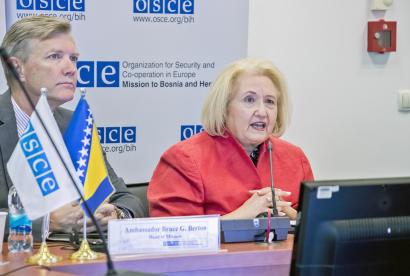 Publishing date:
10 May 2019
Content type:
Press release
SARAJEVO, 10 May 2019- Women's participation and leadership is not just good for women; it can benefit whole societies. This was the message delivered by Ambassador Melanne Verveer, the Special Representative of the Slovak OSCE Chairmanship on Gender, during a three-day visit to Bosnia and Herzegovina (BiH).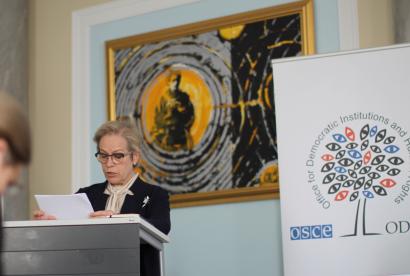 Publishing date:
10 May 2019
On 8 May, ODIHR and Transparency International (TI) launched a platform bringing together international organizations, civil society and academia to combat political corruption by building a shared awareness of the concept and its practice, and at the same time increasing the ability of TI offices across the OSCE region to analyse, monitor, and investigate real and potential cases.
Publishing date:
10 May 2019
The OSCE Programme Office in Bishkek and the UN High Commissioner for Human Rights supported a three-day training course for local prosecutors on Kyrgyzstan's new criminal justice legislation. The event was organized by the Prosecutor General's Office of the Kyrgyz Republic and held from 6 to 8 May 2019 in Bishkek. This is the first round of training for staff of Kyrgyzstan's Prosecutor General's Office. Similar training courses will be conducted in all regions of Kyrgyzstan throughout the year.