News and press releases from the OSCE's global activities.
Publishing date:
15 May 2019
Content type:
Press release
VIENNA, 15 May 2019 – The OSCE Representative on Freedom of the Media Harlem Désir today welcomed the restored access to multiple internet-based media in Uzbekistan, after more than ten years of intermittent blocking.
Publishing date:
15 May 2019
The Fourth Central Asian Internet Governance Forum is taking place on 15 and 16 May 2019 in Tashkent. The event aims to provide a platform to discuss Internet governance policies in Central Asian countries.
Publishing date:
15 May 2019
The OSCE Mission to Skopje and the OSCE Gender Section presented on 15 May 2019 in Skopje a survey that shows that violence against women in North Macedonia is often underreported and that some forms of physical and sexual violence are widespread in the country. The research finds there is a particular need for more support and targeted action to help women from minority groups and from rural areas...
Publishing date:
14 May 2019
Content type:
Weekly report
The Observer Mission (OM) continues to operate 24/7 at both Border Crossing Points (BCPs). The overall number of border crossings by persons decreased at both BCPs compared to the previous week....
Publishing date:
14 May 2019
Content type:
Daily report
Compared with the previous 24 hours, the SMM recorded fewer ceasefire violations in both Donetsk and Luhansk regions. The Mission saw damage to civilian properties from shelling in non-government-controlled Zolote-5/Mykhailivka. Small-arms fire was directed at an SMM mini-unmanned aerial vehicle near Zolote-5/Mykhailivka. The Mission observed weapons in violation of withdrawal lines on both sides of the contact line. The SMM facilitated and monitored adherence to the ceasefire to enable repairs to and the operation of critical civilian infrastructure. Restrictions of the SMM's access continued in all three disengagement areas. The Mission's freedom of movement was also restricted near non-government-controlled Zaichenko, as well as at a non-government-controlled border crossing point near Izvaryne...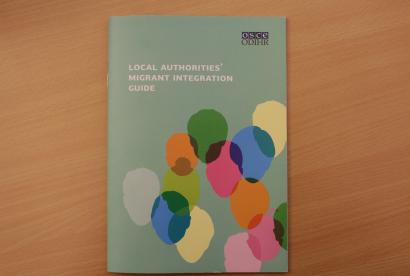 Publishing date:
14 May 2019
Innovative approaches, good practices and viable models of engaging diverse actors in the integration of migrants at the local level were the focus of the conference Cities, Migration and Integration: Challenges, Responsibilities and Inspiration co-organized by the OSCE Office for Democratic
Publishing date:
13 May 2019
Content type:
Press statement
Bratislava/Copenhagen/Vienna, 13 May 2019 – OSCE Chairperson-in-Office and Slovakia's Foreign and European Affairs Minister Miroslav Lajčák, OSCE Secretary General Thomas Greminger, President of the OSCE Parliamentary Assembly (OSCE PA) George Tsereteli and OSCE PA Secretary General Roberto Montella today strongly condemned the use of violence by this weekend's protesters in Albania's capital Tirana, as well as the threats and attempted intimidation directed at the Head of the OSCE's Presence in Albania and at the Organization in general. They also called on law enforcement officials to show restraint.