News and press releases from the OSCE's global activities.
Publishing date:
11 April 2018
Content type:
Press release
BELGRADE, 11 April 2018 – OSCE Representative on Freedom of the Media, Harlem Désir, met with President Aleksandar Vučić today in Belgrade to discuss media freedom issues in Serbia during a three-day official visit to the country...
Publishing date:
10 April 2018
Content type:
Daily report
The SMM recorded fewer ceasefire violations in Donetsk region and more in Luhansk region between the evenings of 6 and 7 April, compared with the previous reporting period. Between the evenings of 7 and 8 April, it recorded fewer ceasefire violations in both regions compared with the previous 24 hours. Between the evenings of 8 and 9 April, it recorded more ceasefire violations in both regions, compared with the previous 24 hours. The SMM followed up on reports of a civilian casualty in Dokuchaievsk and observed damage to civilian properties caused by shelling in Sakhanka. The Mission continued monitoring the disengagement areas near Stanytsia Luhanska, Zolote and Petrivske; it observed ceasefire violations inside the Stanytsia Luhanska disengagement area. Its access remained restricted in all three disengagement areas, as well as, again, near Izvaryne, Dovzhanske and Voznesenivka (near the border with the Russian Federation), at a heavy weapons holding area in a non-government-controlled area, and in Staromykhailivka and Debaltseve.* The SMM observed weapons in violation of withdrawal lines on both sides of the contact line. The Mission observed over 600 anti-tank mines in total for the first time near Zaitseve, Marinka and Avdiivka. In Zakarpattia, the Mission monitored the security situation around locations associated with the Hungarian parliamentary elections. In Zaporizhzhia region, it saw the fishing ship Nord moored at port. The Mission observed Easter celebrations at churches in various cities throughout Ukraine.
Publishing date:
10 April 2018
On 6 April a meeting on how to improve co-ordination between state agencies and international organizations based in Kyrgyzstan in regard to project activities in the religious sphere took place in Bishkek. This event was conducted by the State Commission for Religious Affairs of the Kyrgyz Republic, with the support of the OSCE Programme Office in Bishkek.
Publishing date:
10 April 2018
Content type:
Weekly report
Kamensk-Shakhtinskiy, Russian Federation. The Observer Mission (OM) continues to operate 24/7 at both Border Crossing Points (BCPs). The overall number of border crossings by persons decreased at both BCPs...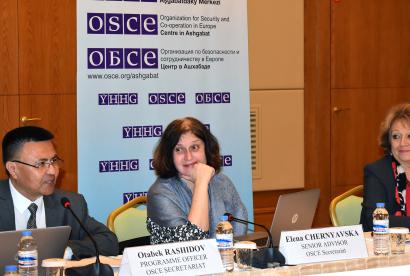 Publishing date:
10 April 2018
A two-day seminar on countering the use of the Internet for terrorist purposes, organized by the OSCE Centre in Ashgabat and the OSCE Secretariat's Action against Terrorism Unit, began on 5 April 2018 in Ashgabat...
Publishing date:
10 April 2018
The OSCE Centre in Ashgabat, in co-operation with the OSCE Secretariat's Transnational Threats Department, organized a two-day seminar entitled "Countering Violent Extremism and Radicalization that Lead to Terrorism (VERLT): a Comprehensive Approach", which concluded in Ashgabat on 4 April 2018. The seminar, the first of its kind in Turkmenistan, served as a platform for policy discussion on preventing and countering VERLT in Turkmenistan. It also aimed to promote a better understanding of the current global and regional trends in VERLT. A particular emphasis was put on regional challenges related to terrorist radicalization.
Publishing date:
9 April 2018
Content type:
Press release
BUDAPEST, 9 April 2018 – Hungary's 8 April parliamentary elections were characterized by a pervasive overlap between state and ruling party resources, undermining contestants' ability to compete on an equal basis, the observers from the OSCE Office for Democratic Institutions and Human Rights (ODIHR) concluded in a preliminary statement today. Voters had a wide range of political options, but intimidating and xenophobic rhetoric, media bias and opaque campaign financing constricted the space for genuine political debate, hindering voters' ability to make a fully informed choice. The technical administration of the elections was professional and transparent, the observers said...