News and press releases from the OSCE's global activities.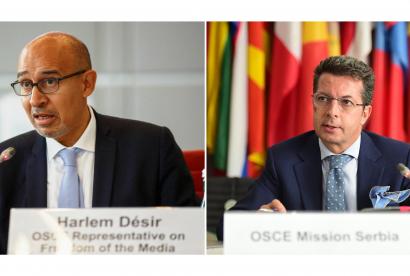 Publishing date:
1 April 2020
Content type:
Press release
VIENNA/BELGRADE, 1 April 2020 – The OSCE Representative on Freedom of the Media, Harlem Désir, and the Head of the OSCE Mission to Serbia, Andrea Orizio, expressed their concerns today over a new decision by the Government of Serbia on public information during the current health emergency and the impact that this could have on free access to information in the country...
Publishing date:
6 March 2020
On the second anniversary of Serbia's Interior Ministry's Anti-Corruption Department, held in Belgrade on 6 March 2020, ten Serbian police officers received diplomas after successfully completing internationally accredited courses in financial crime forensics...
Publishing date:
19 December 2019
Representatives from police services and prosecution offices of Albania, Bosnia and Herzegovina, Montenegro, North Macedonia and Serbia completed a three-day workshop organized by the OSCE in Belgrade on 19 December 2019 on promoting closer co-operation and mutual legal assistance requests among countries of South-Eastern Europe to fight organized crime, particularly through the recovery of criminal assets...
Publishing date:
11 December 2019
Content type:
Press release
BELGRADE, 11 December 2019 – Some 50 teachers, university professors and members of civil society participated at the presentation of civics education manuals for teachers...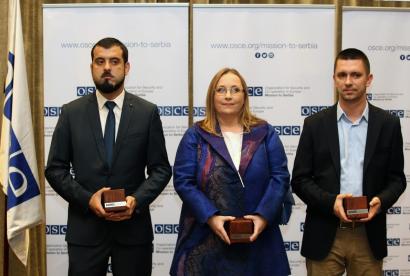 Publishing date:
26 November 2019
Content type:
Press release
BELGRADE, 26 November 2019 – The OSCE Mission to Serbia will present its 2019 Person of the Year Award at a ceremony today in Belgrade. The recipients of this year's award are: Bojan Cvejić, Web Executive Director and Editor-in-Chief at the daily Danas, Sonja Stonajović Gajić, member of the Managing Board of the Belgrade Centre for Security Policy (BCBP) and Aleksandar Ivanović, Director of the Citizen's Association Monitor from Novi Pazar...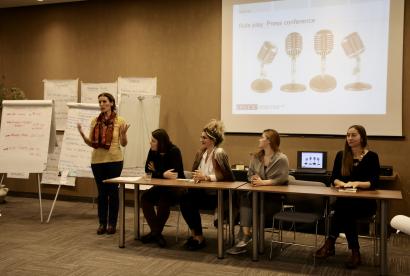 Publishing date:
18 November 2019
Fifteen representatives of civil society and OSCE field operations from across South-Eastern Europe participated in a regional train-the-trainer seminar for future facilitators of courses tailored for women leaders on preventing violent extremism and radicalization that lead to terrorism. The seminar, held in Belgrade from 11 to 16 November 2019, was organized by the Action against Terrorism Unit of the OSCE Transnational Threats Department...
Publishing date:
10 October 2019
Content type:
Press release