News and press releases from the OSCE's global activities.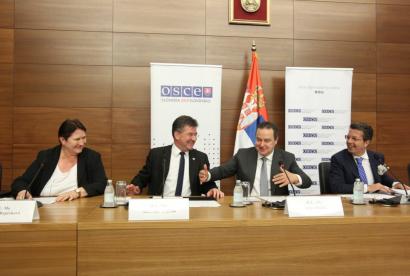 Publishing date:
4 June 2019
Content type:
Press release
BELGRADE, 4 June 2019 – Only an inclusive, accountable and democratically controlled security sector with full respect for human rights, gender equality and the rule of law can effectively provide security to a state and its citizens, said speakers at a high-level discussion in Belgrade today ahead of a two-day regional meeting organized by the Slovak OSCE Chairmanship and the OSCE Secretariat on security sector governance and reform (SSG/R)...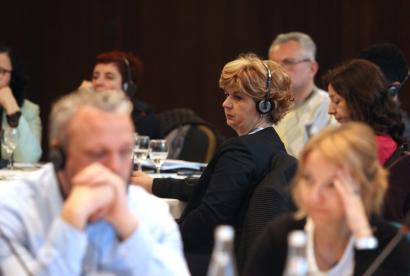 Publishing date:
18 April 2019
Lobbying against corruption was the topic of a training event organized by the OSCE Office for Democratic Institutions and Human Rights (ODIHR) and the OSCE Mission to Serbia from 16 to 18 April in Belgrade. The event gathered 52 participants (36 women and 16 men) from the Serbian Anti-Corruption Agency, the Embassy of the United States and civil society organizations...
Publishing date:
15 March 2019
The OSCE Mission to Serbia handed over IT equipment to the Interior Ministry's Anti-corruption Department on the occasion of its first anniversary, on 15 March 2019. The donation will contribute to enhancing the technical capacity of the department to conduct efficient and effective investigations of economic crime and corruption...
Publishing date:
29 January 2019
Content type:
Press release
BELGRADE, 29 January 2019 – Concluding a three-day visit to Serbia, Samuel Goda, the Special Representative of the Slovak OSCE Chairmanship on Youth and Security, highlighted the crucial role of youth in strengthening comprehensive security and co-operation. Goda reiterated that for Slovakia young people are key for a safer future in Europe...
Publishing date:
17 December 2018
How to prevent crime and violence committed by young people by encouraging their engagement in developing life skills, sports and education was explored at a workshop for around 30 high-level policymakers from South-East Europe organized in Belgrade on 17 December 2018 by the Strategic Police Matters Unit of the OSCE Transnational Threats Department in co-operation with the United Nations Office on Drugs and Crime (UNODC) and the OSCE Mission to Serbia...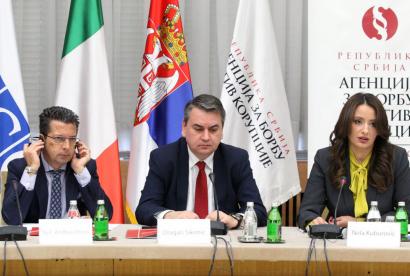 Publishing date:
14 December 2018
More than 100 high-level officials from South-Eastern Europe dealing with preventing corruption, together with senior representatives of Serbian institutions, civil society organizations and the media gathered for a regional conference in Belgrade on 13 and 14 December 2018 to mark International Anti-Corruption Day...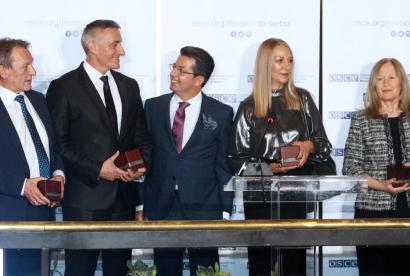 Publishing date:
4 December 2018
Content type:
Press release
BELGRADE, 4 December 2018 – Aleksandar Alimpić, Governor of the Sremska Mitrovica Correctional Institution; Mileva Malesić, Director of TV Forum from Prijepolje, Dejana Milijić Subić, Deputy Director of the Institute for the Improvement of Education; and Dragomir Milojević, President of the Supreme Court of Cassation will be presented with the 2018 OSCE Mission to Serbia's Person of the Year Award at a ceremony today in Belgrade.