News and press releases from the OSCE's global activities.
Publishing date:
21 May 2019
On 15 and 17 May 2019 the Head of the OSCE Programme Office in Bishkek, Ambassador Pierre von Arx, together with local authorities, members of the Kyrgyz Parliament and entrepreneurs, opened two new Entrepreneurship Support Centres (ECS) in the cities of Djalal-Abad and Batken, southern Kyrgyzstan.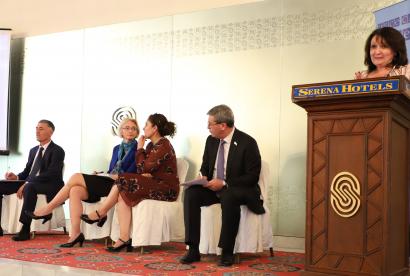 Publishing date:
21 May 2019
The OSCE Programme Office in Dushanbe, jointly with the Parliament of Tajikistan, conducted a conference devoted to the International Day of Families on 15 May 2019.
Publishing date:
20 May 2019
Content type:
Press release
TASHKENT, 20 May 2019 – Kicking off his tour of three Central Asian countries at its very heart, the OSCE Chairperson-in-Office and Slovakia's Foreign and European Affairs Minister, Miroslav Lajčák, today opened the new OSCE premises in Uzbekistan...
Publishing date:
20 May 2019
Content type:
Daily report
Compared with the previous reporting period, between the evenings of 17 and 18 May, the Mission recorded fewer ceasefire violations in Donetsk and Luhansk regions. Between the evenings of 18 and 19 May, the SMM recorded more ceasefire violations in Donetsk region and fewer in Luhansk region, compared with the previous 24 hours. Explosions occur close to the SMM near the Zolote disengagement area. The SMM recorded ceasefire violations inside the Zolote disengagement area. The SMM observed damage caused by small-arms fire in residential houses in Zolote-5/Mykhailivka and fresh craters in Pervomaisk. The Mission observed weapons in violation of withdrawal lines on both sides of the contact line. The SMM facilitated and monitored adherence to the ceasefire to enable repairs to and the operation of critical civilian infrastructure. Restrictions of the SMM's access continued in all three disengagement areas. The Mission's freedom of movement was also restricted at checkpoints in non-government-controlled Staromykhailivka, Verkhnoshyrokivske and Donetsk city, as well as at a heavy weapons holding area in a government-controlled area...
Publishing date:
20 May 2019
The OSCE Mission to Montenegro wishes to congratulate the citizens of Montenegro on the occasion of their Independence Day...
Publishing date:
20 May 2019
Election experts from the OSCE Office for Democratic Institutions and Human Rights (ODIHR) were in Serbia from 14 to 17 May 2019 to meet government officials and international organization representatives as well as civil society, for the first in a series of visits across the region under the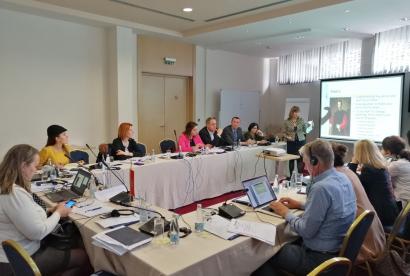 Publishing date:
20 May 2019
The importance of introducing gender-responsive budgeting into the state budget was the topic of an OSCE-supported workshop for nine members of parliament and seven state officials from the Ministry of Finance and the State Statistical Office (MONSTAT), on 14 May 2019 in Podgorica...