News and press releases from the OSCE's global activities.
Publishing date:
10 April 2019
Content type:
Press release
VIENNA, 10 April 2019 – The OSCE Representative on Freedom of the Media, Harlem Désir, denounced the search conducted on 9 April in the editorial office of the Belsat TV channel in Minsk, Belarus. He called on the authorities to exercise restraint in bringing libel charges against media and journalists, and reiterated his call on the authorities to decriminalize defamation.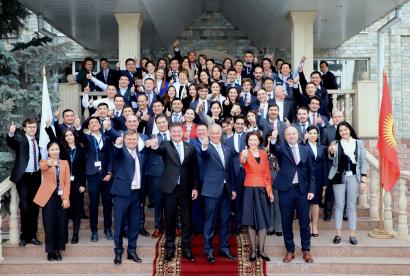 Publishing date:
10 April 2019
Content type:
Press release
BISHKEK, 10 April 2019 – Marking the 20th anniversary of OSCE presence in Kyrgyzstan during his visit to Bishkek yesterday, OSCE Chairperson-in-Office and Slovakia's Foreign and European Affairs Minister Miroslav Lajčák emphasized the strong Kyrgyz-OSCE partnership and close collaboration on promoting good governance, strengthening democratic institutions and reforming the electoral system.
Publishing date:
9 April 2019
Content type:
Daily report
Compared with the previous 24 hours, the SMM recorded more ceasefire violations in Donetsk region and fewer in Luhansk region. A man and a woman were injured by an explosive device in Verkhnotoretske. The Mission observed fresh damage from small-arms fire to a functioning hospital in Donetsk city. The SMM observed fresh craters and unexploded ordnance in Zolote-5/Mykhailivka and mines and unexploded ordnance near Dolmitne and Novotroitske. The SMM recorded ceasefire violations inside the Zolote disengagement area. The Mission observed weapons in violation of the withdrawal lines on both sides of the contact line. The SMM facilitated and monitored adherence to the ceasefire to enable repairs to essential civilian infrastructure in Donetsk and Luhansk regions. Restrictions of the SMM's access continued in all three disengagement areas. In addition, the Mission was denied access at a border crossing point near non-government-controlled Dovzhanske...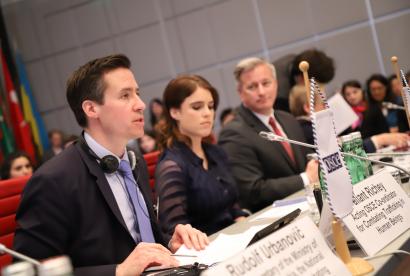 Publishing date:
9 April 2019
Content type:
Press release
VIENNA, 10 April 2018 – How technology can be developed, harmonized and deployed to help combat all forms of human trafficking was the focus of the two-day 2019 OSCE Alliance against Trafficking in Persons Conference, which concluded in Vienna yesterday. More than 400 practitioners from across the OSCE's 57 participating States and the Partners for Co-operation took part...
Publishing date:
9 April 2019
The Slovak 2019 OSCE Chairmanship and the OSCE Mission to Montenegro organized a two-day seminar on cyber/ICT security and use of the Internet for terrorist and organized crime purposes on 3 and 4 April 2019 in Podgorica...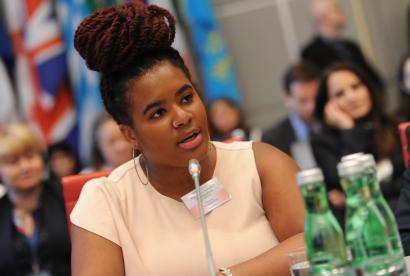 Publishing date:
9 April 2019
Opportunities and benefits technology provides to governmental institutions, law enforcement agencies, corporations and civil society in identifying victims of human trafficking were the focus of discussion at an event on 9 April 2019 during the 19th Alliance against Trafficking in Persons Conference in Vienna. The panel discussion was organized by the OSCE Office for Democratic Institutions and Human Rights (ODIHR) and the Strategic Police Matters Unit of the OSCE Transnational Threats Department.
Publishing date:
9 April 2019
Content type:
Weekly report
Kamensk-Shakhtinskiy, Russian Federation. The Observer Mission (OM) continues to operate 24/7 at both Border Crossing Points (BCPs). The overall number of border crossings by persons decreased at both BCPs compared to the previous week.