News and press releases from the OSCE's global activities.
Publishing date:
24 April 2018
Gender mainstreaming in the parliament of Montenegro was the focus of a training course organized by the OSCE Mission to Montenegro in co-operation with the Parliamentary Committee for Gender Equality on 23 and 24 April 2018 in Podgorica...
Publishing date:
24 April 2018
Content type:
Press release
CHISINAU, 24 April 2018 – An agreement on the mechanism for the participation of vehicles from Transdniestria in international road traffic was signed by the Chief Negotiators from Chisinau and Tiraspol today...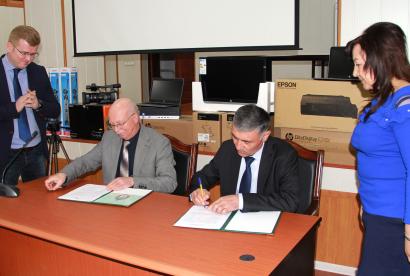 Publishing date:
24 April 2018
The OSCE Programme Office in Dushanbe donated two modern desktop computers, two notebooks, one printer and one professional digital video camera to the press centre of Tajikistan's Interior Ministry on 20 April 2018 in Dushanbe.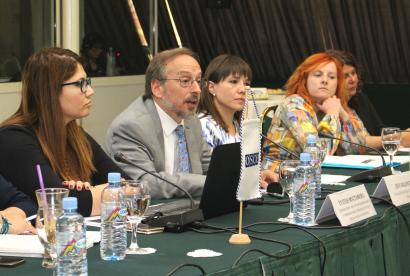 Publishing date:
24 April 2018
Some 50 representatives of state institutions, civil society, and the international community gathered for a public debate, organized by the OSCE Mission to Skopje and the Labour and Social Policy Ministry, on the new draft law on prevention and protection against discrimination on 23 April 2018 in Skopje...
Publishing date:
23 April 2018
Content type:
Daily report
Between the evenings of 20 and 21 April, the SMM recorded more ceasefire violations in Donetsk region and fewer in Luhansk region compared with the previous reporting period. Between the evenings of 21 and 22 April, the SMM recorded fewer ceasefire violations in Donetsk and Luhansk regions compared with the previous 24 hours. The SMM observed fresh damage caused by gunfire or shelling in Pikuzy and Sakhanka, and impact sites in Popasna. Operations at the Donetsk Filtration Station resumed following facilitation by the SMM of access of Voda Donbassa employees to the station, however, the SMM heard ceasefire violations in the area despite security guarantees having been provided. The SMM also continued to facilitate and monitor repairs of a high-voltage powerline near Yuzhna-Lomuvatka. The Mission continued monitoring the disengagement areas near Stanytsia Luhanska, Zolote and Petrivske, and it recorded ceasefire violations assessed as inside the Petrivske disengagement area. Its access remained restricted in all three disengagement areas and elsewhere, including in areas outside government control near the border with the Russian Federation.* The SMM observed weapons in violation of withdrawal lines on both sides of the contact line. Civilians expressed frustration due to the long waiting time at entry-exit checkpoints near Marinka, Kreminets and Olenivka.
Publishing date:
23 April 2018
Content type:
Press release
MOSCOW/PARIS/WASHINGTON DC, 23 April 2018 – In light of recent political developments in the region and the possibility of escalation along the Line of Contact, the Co-Chairs of the OSCE Minsk Group on the Nagorno-Karabakh conflict, (Igor Popov of the Russian Federation, Stephane Visconti of France, and Andrew Schofer of the United States of America) underscore the critical importance of the sides respecting the ceasefire at this delicate time and, in particular, keeping heavy equipment positioned in the rear of the frontlines.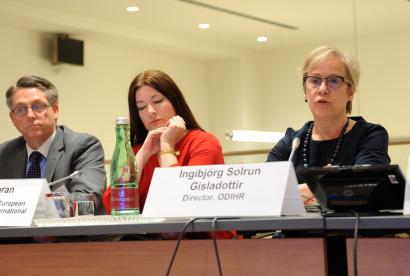 Publishing date:
23 April 2018
Multidisciplinary and gender-sensitive approaches reflecting the needs and voices of survivors of human trafficking were at the centre of discussions at a side event organized by the OSCE Office for Democratic Institutions and Human Rights (ODIHR) and the Strategic Police Matters Unit (SPMU/TNTD)