News and press releases from the OSCE's global activities.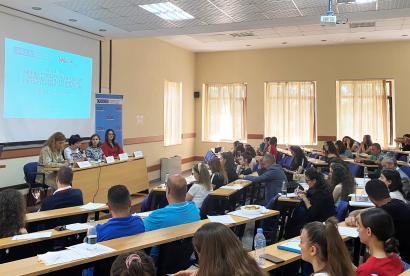 Publishing date:
27 May 2022
Around 80 students from the University of Korça participated in a Youth Talk session focused on the issue of missing persons during the Communist regime, on 26 May 2022. The event – organized by the OSCE Presence in Albania and its Youth Advisory Group – aimed at increasing youth engagement in the
Publishing date:
24 May 2022
On 24 May, the OSCE Presence in Albania wrapped up a three-day training programme for 16 newly selected and vetted National Bureau of Investigation (NBI) investigators. The training programme aimed at boosting up the overall capacities of the newly-established NBI to conduct criminal investigations
Publishing date:
28 April 2022
Strengthening Albania's capacity to designate and impose targeted financial sanctions against individuals and entities associated with terrorist groups was the focus of a three-day training course, which concluded on 28 April 2022 in Durres, Albania. The training course was jointly organized by the OSCE's Transnational Threats Department, and the UN Office on Drugs and Crime (UNODC), with the support of the OSCE Presence in Albania.
Publishing date:
17 February 2022
On 16 February 2022, the OSCE Presence in Albania introduced academic partners, the Assembly and representatives of civil society to the main findings of a feasibility study for the development of a study programme on parliamentary issues.
Publishing date:
15 December 2021
The OSCE Transnational Threats Department and the OSCE Presence in Albania jointly organized the online training course "Implementing Intelligence-Led Policing on Strategic and Operational Levels" on 9 and 10 December.
Publishing date:
14 December 2021
A high-level conference on raising awareness on gender inequalities and corruption took place on 10 December 2021, in hybrid format in Tirana. Organized by the OSCE Presence in Albania, the event marked the end of Integrity Week in Albania, which raised awareness of the opportunities that gender-specific approaches to fighting corruption offer to boost socio-economic growth, security, and to consolidate democracy.
Publishing date:
14 December 2021
"Enforced and involuntary disappearances in dictatorship and authoritarian past and contemporary settings: a social, legal and historical appraisal of transitional and transformation polices and mechanisms," was the topic of an international conference held in Tirana and online, from 13 to 15 December 2021.