News and press releases from the OSCE's global activities.
Publishing date:
7 January 2021
An OSCE-organized three-day online training on international co-operation and mutual legal assistance in asset recovery for beneficiaries in Albania concluded on 7 January 2021.
Publishing date:
22 December 2020
The OSCE held an online national workshop for Bosnia and Herzegovina on the social re-use of confiscated assets on 21 December 2020. More than 20 representatives from prosecutions' offices, law enforcement, asset management agencies and civil society organizations participated in the event.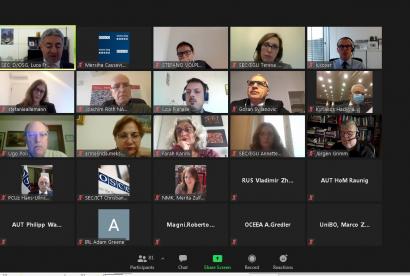 Publishing date:
17 December 2020
Experiences of local governments where migrants contribute successfully to the economic growth of hosting communities, was the focus of the OSCE webinar hosted on 16 December 2020, ahead of International Migrants Day on 18 December...
Publishing date:
11 December 2020
The importance of political support as a key step in introducing effective legal and policy frameworks to strengthen open data initiatives that lead to societies that are more transparent was discussed at an OSCE-organized webinar on International Anti-Corruption Day on 9 December 2020...
Publishing date:
26 November 2020
Enhancing economic connectivity perspectives and the operationalization of Euro-Asian inland transport links (EATL) were the focus of virtual consultations held by the OSCE and the UN Economic Commission for Europe (UNECE) on 26 November 2020...
Publishing date:
25 November 2020
The COVID-19 pandemic has led to an immediate reduction in energy demand and carbon emissions and has curbed investments across the sector with uncertain consequences for the energy transition, state participants of the Third Vienna Energy Strategy Dialogue titled "Implications of the global energy transition" held virtually on 24 November 2020 from Vienna...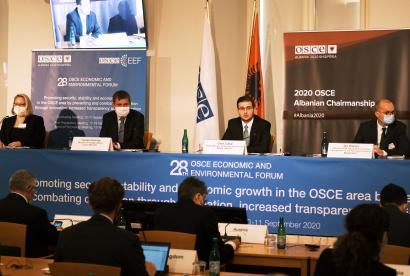 Publishing date:
10 September 2020
Content type:
Press release
PRAGUE, 10 September 2020 – "Corruption shrinks tax revenue, distorts markets, hampers trade and investment and deepens inequalities. Every time illegal private gain wins out against the public good, it weakens our social fabric. Our objective is nothing short of zero tolerance for corruption," said Albania's Acting Minister for Europe and Foreign Affairs of Albania Gent Cakaj, while opening the 2020 OSCE Economic and Environmental Forum today in Prague...