News and press releases from the OSCE's global activities.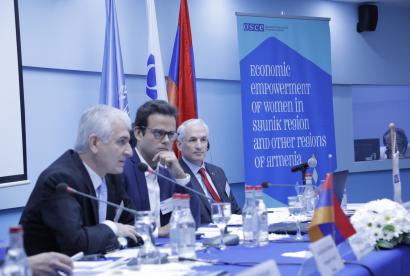 Publishing date:
31 October 2019
As part of the celebrations to mark the 100th anniversary of the establishment of the International Labour Organization, the Office of the Co-ordinator of OSCE Economic and Environmental Activities and the Republican Union of Employers of Armenia (RUEA) co-organized the event "Leaving no one behind: Promoting social economy for an inclusive and prosperous Armenia" on 30 October 2019 in Yerevan. Discussions at the event focused on promoting financial stability and social cohesion through more effective eco-systems for social enterprises.
Publishing date:
30 October 2019
Content type:
Press release
TURKMENBASHI, Turkmenistan, 30 October 2019- Two OSCE-supported events launched activities in Turkmenistan aimed at promoting green ports and connectivity in the Caspian Sea region. A roundtable discussion for experts on 29 October took place in Ashgabat and a technical workshop was held on 30 October at the Turkmenbashi International Seaport.
Publishing date:
28 October 2019
Content type:
Press release
BRATISLAVA, 28 October 2019 – Young women and men from across the OSCE region and beyond gathered in Bratislava today to discuss how to best engage youth for a safer future by 2030. The two-day OSCE-wide Youth Forum brings together young people, ambassadors, diplomats and experts for an inter-generational dialogue under the OSCE's flagship Perspectives 20-30 initiative, a key priority of Slovakia's OSCE Chair...
Publishing date:
25 October 2019
Content type:
Press release
TIRANA, 25 October 2019 — Making tangible steps towards a more strategic, action-oriented approach to co-operation between the OSCE and its Mediterranean Partners for Co-operation was the focus of the two-day 2019 OSCE Mediterranean Conference, which concluded today in Tirana...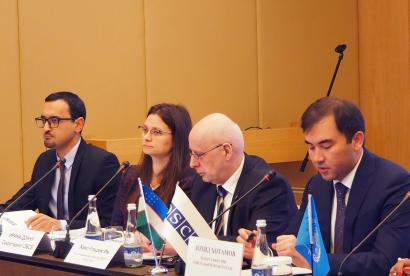 Publishing date:
25 October 2019
A three-day training course aimed at further strengthening the capacity of Uzbekistan to counter terrorist financing concluded in Tashkent on 25 October 2019...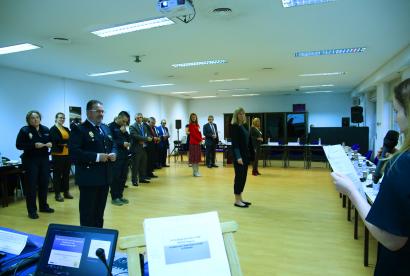 Publishing date:
25 October 2019
Members of the OSCE Mediterranean Points of Contact (PoC) Network on Border Security and Management completed a three-day intensive training course on 24 October 2019 on two gendered aspects of transnational threats: terrorism and trafficking in human beings. The course was held at the premises of the International Co-operation Division of the Spanish National Police in Madrid...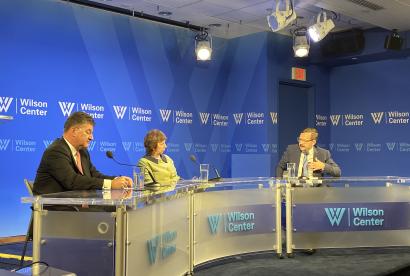 Publishing date:
24 October 2019
Content type:
Press release
WASHINGTON D.C., 24 October 2019 – OSCE Chairperson-in-Office, Slovak Minister for Foreign and European Affairs Miroslav Lajčák, and OSCE Secretary General Thomas Greminger discussed yesterday the role of international organizations and regional co-operation in preventing conflicts at an event moderated by Baroness Catherine Ashton of Upholland, Chair of the Global Europe Program of the Wilson Center and former EU High Representative for Foreign Affairs and Security Policy.