News and press releases from the OSCE's global activities.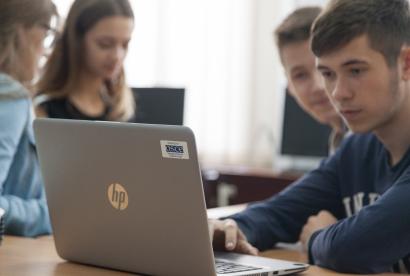 Publishing date:
17 May 2019
Content type:
Press release
CHISINAU, 17 May 2019- The OSCE Mission to Moldova completed today donation of 16 sets of computer and recreational equipment to eight Moldovan-administered Latin-script schools and eight Transdniestria-administered schools to contribute to the quality of education for children. The measure is part of the Mission's confidence-building efforts and a means of promoting the holistic development of students...
Publishing date:
17 May 2019
A three-day training course aimed at further strengthening the capacity of Albania to counter terrorist financing was organized from 15 to 17 May 2019, in Tirana. Twenty-two participants (including five females) from the General Directorate for the Prevention of Money Laundering (GDPML) (Albanian Financial Intelligence Unit), the State Intelligence Service (SHISH), the Albanian State Police, the Ministry of Justice and the Prosecution Office for Serious Crimes completed the course.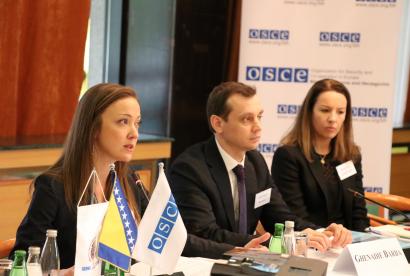 Publishing date:
17 May 2019
Trial monitoring principles, ways to mainstream gender and diversity in trial monitoring activities, follow-up steps and the training of monitors were the key topics of an annual meeting on trial monitoring in the OSCE region, which took place in Sarajevo from 14 to 16 May 2019.
Publishing date:
17 May 2019
Content type:
Daily report
Compared with the previous reporting period, the Mission recorded fewer ceasefire violations in Donetsk region and more in Luhansk region. Small arms were fired 100m west of the SMM's position near non-government-controlled Molodizhne. The Mission observed weapons in violation of withdrawal lines near Vrubivka and Vasiukivka. The SMM facilitated and monitored adherence to the ceasefire to enable repairs to and the operation of critical civilian infrastructure. Restrictions of the SMM's access continued in all three disengagement areas. The Mission's freedom of movement was also restricted near non-government-controlled Zaichenko in southern Donetsk region...
Publishing date:
17 May 2019
The OSCE Project Co-ordinator in Uzbekistan conducted a third in a series of anti-trafficking training courses for investigators and operative agents from Tashkent, Tashkent region and Syrdarya, from 13 to 17 May 2019 in Tashkent...
Publishing date:
16 May 2019
Content type:
Press release
ERGNETI, 16 May 2019- On 16 May 2019, the 93rd Incident Prevention and Response Mechanism (IPRM) meeting took place in Ergneti. Mr. Erik Høeg, Head of the European Union Monitoring Mission in Georgia (EUMM), and Ambassador Rudolf Michalka, Special Representative for the South Caucasus of the OSCE Chairperson-in-Office, co-facilitated a meeting held in a business-like atmosphere...
Publishing date:
16 May 2019
Content type:
Press release
VIENNA, 16 May 2019 – The OSCE Representative on Freedom of the Media, Harlem Désir, shared a legal review with the Minister of Information Society and Administration of North Macedonia, Damjan Mancevski, on the latest amendments to the Law on Audio and Audio-visual Media Services...