News and press releases from the OSCE's global activities.
Publishing date:
22 December 2015
Content type:
Press release
BISHKEK, 22 December 2015- The OSCE Centre in Bishkek and Kyrgyz OSCE Youth Ambassador Elvira Kalmurzaeva, in co-operation with the Kyrgyz Diplomatic Academy of the Foreign Affairs Ministry, held an open lecture in Bishkek today for master's students on the OSCE's role in regional security...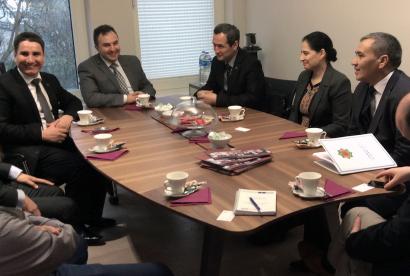 Publishing date:
18 December 2015
Content type:
Press release
LONDON, 18 December 2015 – Representatives of Turkmenistan's Education Ministry, Mejlis (Parliament) and the National Institute of Democracy and Human Rights discussed international standards and best practices related to educational reforms during an OSCE-organized five-day study visit to London that concludes today...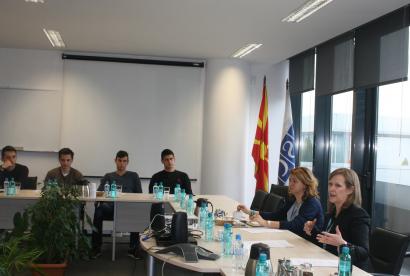 Publishing date:
16 December 2015
Some 30 students and professors from the Law Faculty of the Goce Delcev University in Stip visited the premises of the OSCE Mission to Skopje on 16 December 2015 to learn about the work of the Mission, particularly in the field of rule of law and good governance...
Publishing date:
15 December 2015
An OSCE-supported five-day winter school on "Inter-cultural Youth Dialogue in the Digital Era" which gathered some 30 young men and women from Serbia and Albania, concluded on 14 December 2015 in Belgrade. The event provided participants the opportunity to exchange experiences on topics such as culture and tradition, youth co-operation, active citizenship and new media...
Publishing date:
9 December 2015
A mediation club was opened on 9 December 2015 in the Secondary School "Vlado Tasevski" in Skopje, as part of the project "Mediation for Change" implemented by the OSCE Mission to Skopje and financially supported by the Swiss Embassy in Skopje...
Publishing date:
1 December 2015
The participation of national minorities in public life and promoting their access to education were among the main topics of discussion during the OSCE High Commissioner on National Minorities (HCNM) Astrid Thors' visit to Kyrgyzstan from 24 to 26 November. In Bishkek, Thors exchanged views on a
Publishing date:
30 November 2015
The OSCE Project Co-ordinator in Ukraine and Yaroslav Mudryi National Law University organized an autumn school in Kharkiv from 23 to 25 November 2015, bringing together law professors from different universities across Ukraine to learn about the current trends in criminal law and teaching methodologies...