News and press releases from the OSCE's global activities.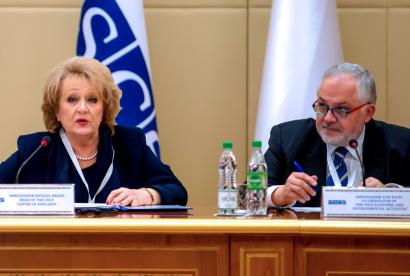 Publishing date:
31 May 2018
"Good Governance and Economic Connectivity- best practices within the OSCE region" was the topic of the OSCE Regional Ministerial Conference organized by the OSCE and the Government of Turkmenistan that ended in Ashgabat on 31 May 2018...
Publishing date:
20 March 2018
On the occasion of World Social Work Day, the OSCE Mission to Bosnia and Herzegovina (BiH) supported the Faculty of Political Sciences of the University of Sarajevo and the Association of Social Workers of the Federation of Bosnia in organizing the conference "Social Work in Education", which concluded on 20 March 2018 in Sarajevo...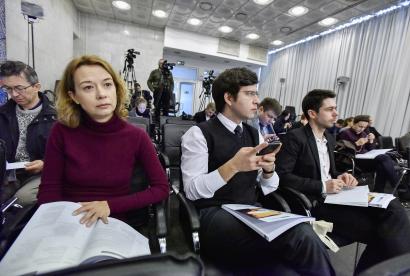 Publishing date:
14 March 2018
The OSCE Project Co-ordinator in Ukraine jointly with the project Support to Anti-Corruption Champion Institutions (SACCI) funded by USAID, conducted dialogue focus groups on anti-corruption reform in 10 regions across Ukraine in 2017. The results of these dialogues were assembled in publication of survey on perceptions of the success of the anti-corruption reform presented at an event held on 13 March 2018 in Kyiv.
Publishing date:
2 February 2018
Some 75 city administration officials including city council members, public enterprise officials and providers of citizen services from Novi Pazar have successfully completed an OSCE-supported public relations and customer service training course held over a period of three months from November 2017 to January 2018. The final course in a series of three will take place in Kopaonik from 2 to 4 February.
Publishing date:
1 February 2018
More than 30 prosecutors and judges from across Bosnia and Herzegovina (BiH) attended a training course on trafficking in human beings (THB), which concluded on 1 February 2018 in Sarajevo. The course was organized by the OSCE Mission to BiH, in co-operation with the Judicial and Prosecutorial Training Center of the Federation of BiH.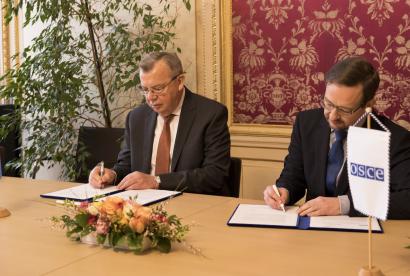 Publishing date:
31 January 2018
Content type:
Press release
VIENNA, 31 January 2018 – A plan for joint action by the OSCE and the United Nations Office on Drugs and Crime (UNODC) for the period 2018-2019 was signed by OSCE Secretary General Thomas Greminger and UNODC Executive Director Yury Fedotov today at the OSCE Secretariat in Vienna.
Publishing date:
11 January 2018
Content type:
Press release
VIENNA, 11 January 2018 – Addressing the crisis in and around Ukraine, the protracted conflicts, the security of the Mediterranean region, and the challenges of migration, including by combating human trafficking and all forms of xenophobia and discrimination, are among Italy's OSCE Chairmanship priorities, OSCE Chairperson-in-Office and Italy's Foreign Minister Angelino Alfano told the Permanent Council in Vienna today...