News and press releases from the OSCE's global activities.
Publishing date:
2 November 2018
A one-week training course for 15 Serbian border guards to enhance their skills in detecting forged and fraudulent documents as well as imposters was held from 29 October to 2 November 2018 in Belgrade. The course was organized by the Border Security and Management Unit of the OSCE's Transnational Threats Department...
Publishing date:
2 November 2018
Content type:
Press release
Op-ed by George Tsereteli and Isabel Santos, The Hill, 1 November 2018
Publishing date:
1 November 2018
Content type:
Press release
VIENNA, 1 November 2018 – The OSCE Representative on Freedom of the Media, Harlem Désir, today expressed his disappointment after a court decision in Ukraine extended for the third time the pre-trial detention of bureau chief of the RIA Novosti Ukraine news agency, Kirill Vyshinsky...
Publishing date:
1 November 2018
Content type:
Daily report
The SMM recorded fewer ceasefire violations in Donetsk and Luhansk regions, compared with the previous reporting period. At a hospital in Donetsk city, the Mission saw a man with two legs amputated, reportedly due to a mine explosion. The SMM observed a weapon in violation of the agreed withdrawal lines near Voitove. It recorded ceasefire violations near the Petrivske and the Zolote disengagement areas. The SMM's access remained restricted in all three disengagement areas; it was also restricted near Novoazovsk – an area close to the border with the Russian Federation – Staromykhailivka, Novolaspa, and again near Zaichenko and Bezimenne. The Mission facilitated and monitored adherence to the ceasefire to enable repairs to the phenol sludge reservoir near Zalizne and to critical civilian infrastructure in Donetsk and Luhansk regions, as well as to enable demining near Nyzhnoteple, Zolote-2/Karbonit and Novotroitske. In Kyiv, the SMM monitored a public gathering related to utility prices...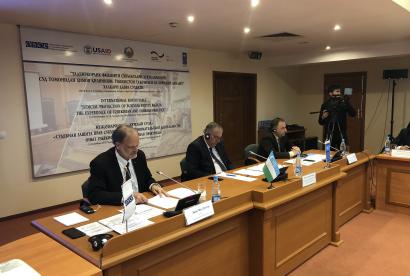 Publishing date:
1 November 2018
Protecting private property and improving legislation on business entities' rights were the focus of an international roundtable discussion hosted by Uzbekistan's Supreme Court with the support of the OSCE Project Co-ordinator and in co-operation with UNDP, USAID and the German Agency for International Co-operation on 1 November 2018 in Samarkand, Uzbekistan...
Publishing date:
1 November 2018
Strategic planning and quality written project proposals enable NGOs to access European Union and other important donors' funds. With that in mind, the OSCE Mission to Montenegro provided a series of training courses during October 2018 to the NGO Bona Fide from Pljevlja, Montenegro...
Publishing date:
1 November 2018
Hate speech in the media was the focus of a two-day OSCE Mission to Skopje-supported discussion with representatives of media organizations, national human rights institutions, state and regulatory bodies, criminal justice agencies and civil society organizations, which concluded on 1 November 2018 in Mavrovo...