News and press releases from the OSCE's global activities.
Publishing date:
30 August 2017
The OSCE Programme Office in Bishkek and the Action against Terrorism Unit of the OSCE's Transnational Threats Department held a two-day expert meeting on establishing an Advance Passenger Information (API) system in the country, which took place in Bulan-Sogottu, Kyrgyzstan on 23 August and 24 August 2017. The expert meeting brought together more than 40 decision-makers involved in passenger information processing in the country, including border control and airport authorities, airlines, customs officers, and national security officers. It provided participants with a comprehensive understanding of the functions and benefits of API in combating terrorism and transnational crime...
Publishing date:
24 August 2017
The OSCE Programme Office in Bishkek and the National Red Crescent Society of Kyrgyzstan organized a summer camp for 20 affected by the Dacha-Suu plane crash in the village of Kara Oi, in the northern Issyk Kyl region from 17 to 20 August 2017...
Publishing date:
7 August 2017
More than 300 representatives of Kyrgyz law-enforcement bodies participated in nine training sessions from 17 July to 6 August 2017 in Bishkek, Jalal Abad, Osh, Batken and Cholpon Ata on how to ensure that the October 2017 presidential election is free, fair and transparent. The training was delivered by the Central Electoral Commission and the Civil Platform Kyrgyz Public Fund, with the support of the OSCE Programme Office in Bishkek...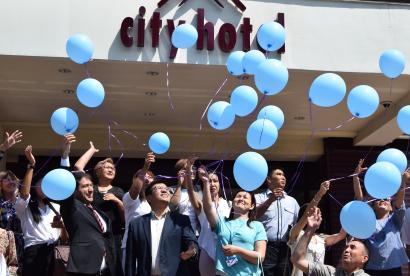 Publishing date:
1 August 2017
Opportunities, challenges and perspectives in combating and preventing human trafficking in Kyrgyzstan were the focus of a roundtable discussion organized by the Kyrgyz State Migration Service and supported by the OSCE Programme Office in Bishkek on 28 July 2017. The event was held ahead of the World Day against Trafficking in Persons on 30 July...
Publishing date:
11 July 2017
On July 6, 2017 the OSCE Programme Office in Bishkek handed over specialized explosive ordnance disposal equipment to staff of the Kyrgyz Republic State Committee for National Security. This special equipment consisting of bomb suits, helmets and specialized tools will enhance the technical capacities, operational flexibility and security of the State Committee explosive ordnance disposal experts...
Publishing date:
27 June 2017
More than 40 representatives of Kyrgyzstan's parliament – the Jogorku Kenesh, the government, as well as independent experts took part in the OSCE Summer School on "National interests of the Kyrgyz Republic in the modern geopolitical situation" on 21-24 June 2017. The Summer School, at Issyk Kul, northern Kyrgyzstan, brought together officials who in their daily work are involved in developing the country's internal and external policies as part of the National Sustainable Strategy to 2040 and the national high-tech project Taza Koom.The Project provides for better public services, business conditions and transparency in the public administration system...
Publishing date:
19 June 2017