News and press releases from the OSCE's global activities.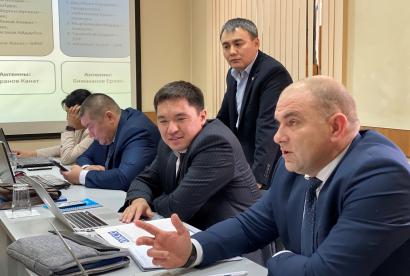 Publishing date:
13 December 2019
An OSCE-organized week-long simulation exercise on countering drug-related money laundering concluded on 13 December 2019 in Almaty. It took place at the Central Asian Regional Information and Co-ordination Centre for Combating Illicit Trafficking of Narcotic Drugs, Psychotropic Substances and their Precursors (CARICC).
Publishing date:
12 December 2019
Content type:
Daily report
Summary Compared with the previous reporting period, the SMM recorded fewer ceasefire violations in Donetsk region and more in Luhansk region. The SMM continued monitoring the situation in the disengagement areas near Petrivske, Zolote and Stanytsia Luhanska. It recorded ceasefire violations near
Publishing date:
12 December 2019
How to combat human trafficking and the smuggling of migrants through a multi-disciplinary approach and multi-level co-operation was the focus of a regional workshop for government and law enforcement officials held in Valletta on 9 and 10 December 2019...
Publishing date:
12 December 2019
Content type:
Press release
VIENNA, 12 December 2019 – The OSCE Secretariat today launched a new online resource containing help and information pages to support efforts to prevent and combat violence against women. Available in six languages, www.stopvawnow.org is designed as a practical tool for officials, law enforcement agencies, NGOs and the wider public in Albania, Bosnia and Herzegovina, Montenegro, North Macedonia and Serbia as well as Moldova and Ukraine...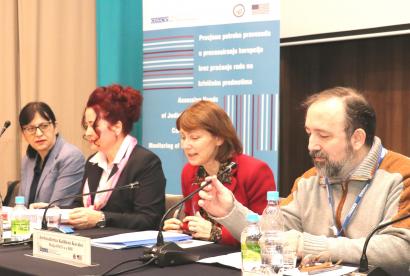 Publishing date:
12 December 2019
The establishment of special departments for fighting corruption within the Federation of Bosnia and Herzegovina (FBiH) Supreme Court and Prosecutor's Office was the focus of a peer-to-peer meeting of entity and cantonal level judges, prosecutors, police and representatives of the FBiH Government, held on 12 December 2019 in Sarajevo...
Publishing date:
12 December 2019
A two-day expert meeting on how to address the digital dimensions of violent extremism in Central Asia opened on 12 December 2019 in Dushanbe for some 70 experts from all the Central Asian states and Afghanistan. The participants include representatives of law enforcement agencies, relevant state institutions, the ICT industry, civil society, youth organizations, academia, and the media...
Publishing date:
12 December 2019
Content type:
Spot report
On 12 December at 06:35 (Moscow time), the ninety-third Russian convoy arrived at the Donetsk Border Crossing Point (BCP). A total of ten vehicles were checked by Russian Federation border guards and customs officers prior to their crossing into Ukraine. All ten vehicles had crossed back into the Russian Federation by 12:18 on 12 December.